Click Chart Below to Zoom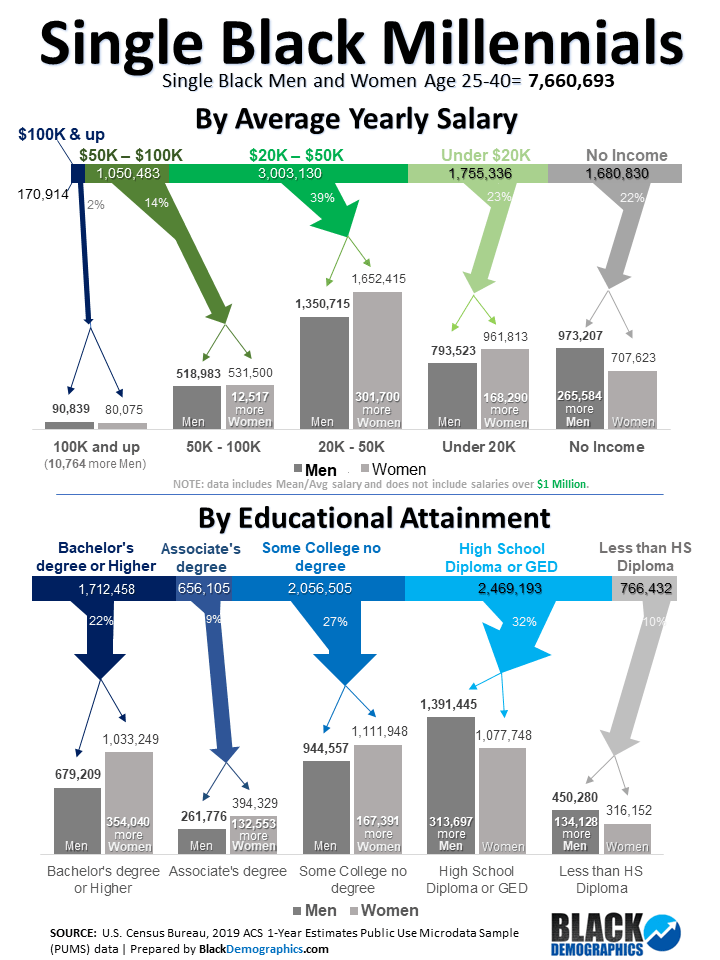 Here at BlackDemographics.com we have recently and frequently been asked about statistics regarding single Black men and women and availability. There seems to be disagreements on social media about the availability, education, and education of single Black men compared to women. So we decided to look into it. This is our first installment of what we believe to be several regarding data about African American singles.

We analyzed data from the Census ACS Public Use Microdata Sample or PUMS from 2019 (the latest data available) The hard truth is that there are simply more Black women than men. According to these estimates in 2019 there were 206,159 more single Black Women than Black men ages 25-40.
However among higher income single Black millennials there were just as many Black men with mean or average incomes of $50,000 and above as Black women in the same income range. This data sample did not include any salaries over $1 million.

The big discrepancies started with salaries below $50,000. There were an estimated 300,700 more Single Black women than men with salaries between $20,000 and $49,999. There were also an additional 168,290 more women than men making less than $20,000.

So this leaves 973,209 Black single millennial men with no reported income which is 265,584 more men than women who also had no income. Simply put there are:
an even number of Black men and women with high incomes
a deficit of Black men with salaries lower than $50,000
a surplus of Black women with salaries lower than $50,000
a surplus of Black men with no income
Black women outnumber Black men in every category of education above high school diploma while Black men outnumber women with only a high school diploma and among single Black millennials who did not complete a high school diploma or GED.
In conclusion, higher salary Black woman searching for a Black man with comparable salary appear to be evenly matched. However the 2.6 million Black women with lower end salaries outnumber men by more than 460,000 and more than quadruple the number of a high end salary single Black men.
Although there are just over a half million more single Black millennial women with college degrees than Black men, it is also evident that college education hasn't necessarily translated to high end salaries. However, in terms of relationships education may be of importance when it comes to other areas of compatibility.