Black Party Affiliation
African Americans have a history in both major political parties of the United States. After the Civil War almost all Blacks considered them-selves Republicans. It was the Republican Party that was started by abolitionists and of course the party of President Abraham Lincoln. Mean-while Southern Democrats strongly opposed any rights to Blacks at the time and for almost a century there-after. African Americans were not even allowed to officially attend the Democratic convention until 1924.
CLICK TO ENLARGE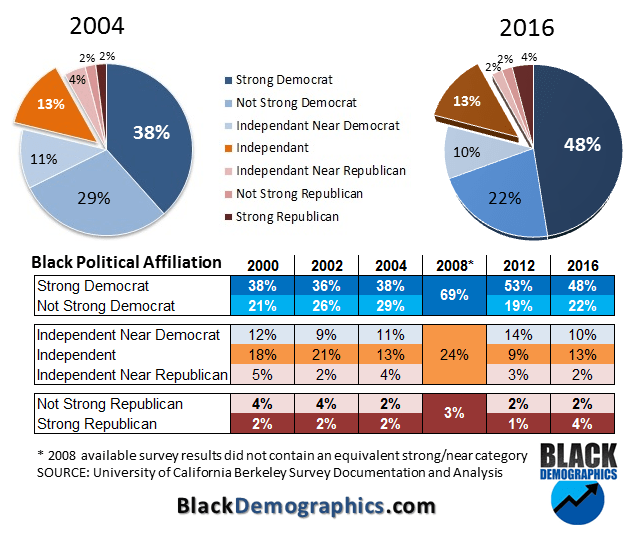 Things began to change during the "Great Depression" of the 1930s with Franklin Roosevelt's New Deal. The New Deal was a program that helped disadvantaged and minority communities find work. This persuaded 71% of African Americans to vote for a Democrat for president even though only 44% considered themselves to be members of the Democratic Party. In 1948 Democrat Harry Truman ordered the desegregation of the military in addition to an executive order affecting racial discrimination of federal employment securing much of the Black vote for the election later that year. During this time 56% of African Americans were now Democrats. cont below chart…
CLICK TO ENLARGE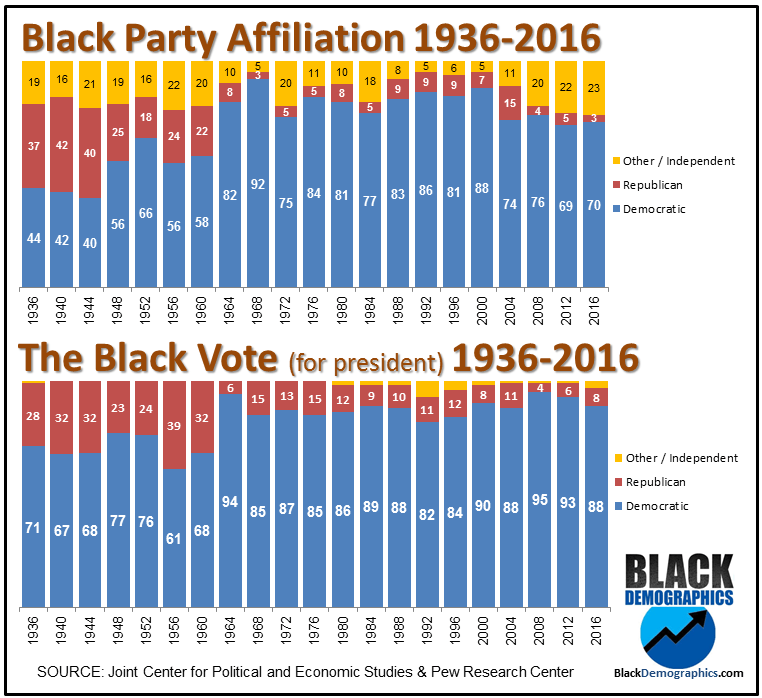 It was the association of civil rights legislation with John F Kennedy and Lyndon Banes Jonson that solidified Black loyalty to the Democratic Party for good. JFK proposed and LBJ signed the Civil Rights Act of 1964 which outlawed public discrimination. LBJs Republican opponent, Barry Goldwater, opposed it garnering Johnson 94% of the black vote that year, which was a record until 2008. Johnson later signed the 1965 Voting Rights Act.
By this time the majority of Blacks had become Democrats. By 2016 only 8% of African Americans considered themselves Republicans. Although 88% of African Americans voted for Democrat Hillary Clinton in 2016, only 70% consider themselves democrats. Over the last 40 years Black Americans have consistently voted overwhelmingly for the Democratic presidential candidate. The most votes any Republican candidate received from Blacks since 1968 was Gerald Ford in 1976 (15%).
Source: Joint Center for Political and Economic Studies New York Times http://www.nytimes.com/1996/09/19/us/gop-tries-hard-to-win-black-votes-but-recent-history-works-against-it.html http://www.factcheck.org/2008/04/blacks-and-the-democratic-party/ http://www.people-press.org/2012/11/07/changing-face-of-america-helps-assure-obama-victory/
NOTE: Voting statistics are driven by polls and/or surveys which are conducted by several different news agencies and political organizations. This is why results of polls may differ depending on source used.