African Immigrants in the United States
Between 2000 and 2016 more than 1 million immigrants from sub-Saharan Africa came to the United States mainly from Nigeria, Ghana, Kenya, Ethiopia, and Somalia. This was the largest number of Africans coming to the U.S. since the trans-Atlantic slave trade. Most settle in metropolitan areas of New York, Washington DC, Atlanta, Houston, Minneapolis, Los Angeles, and Dallas. Many are dispersed throughout non-majority Black neighborhoods. African immigrants tend to have a higher than average socioeconomic status than African Americans and are more educated than most other immigrants to the United States.
CLICK IMAGE TO ZOOM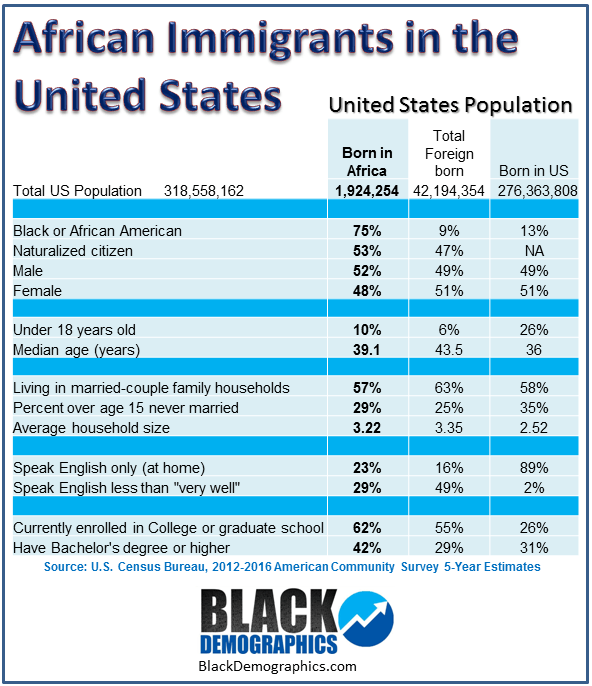 According to the Census Bureau 2012-2016 American Community Survey there are a total of 1.9 million African immigrants in the the United States. Of those, 75% are Black and 19% are White most of which are Arab from northern Africa who are technically categorized as White by the Census Bureau. More than half of African immigrants (53%) have become US citizens and just over half are male. Only 10% of immigrants from Africa are children under 18 years old compared to the 26% of all natural born US citizens. At 3.22 persons per household African immigrant households are larger than that of US born citizens (2.52) but they are just as likely to live in a family household headed by a married couple (57%).
A majority of African immigrants (62%) are currently enrolled in college or graduate school which is higher than all immigrants (55%) and much higher than the US born population at 26%. As a matter of fact 42% of African immigrants already have a bachelor's degree or higher which is alo much higher than US born citizens (31%) and immigrants as a whole at 29%.African immigrants are more likely to participate in the workforce and to hold a job compared to US born citizens and immigrants as a whole. Despite this they still had a higher unemployment rate at 6.1% compared to 4.7% and 4.4% respectively. Immigrants from Africa are heavily employed in the education and healthcare industries (34%). They are also very likely to have occupations in management, business, science and the service sector at 38% which is equal to that of US born citizens.
CLICK IMAGE TO ZOOM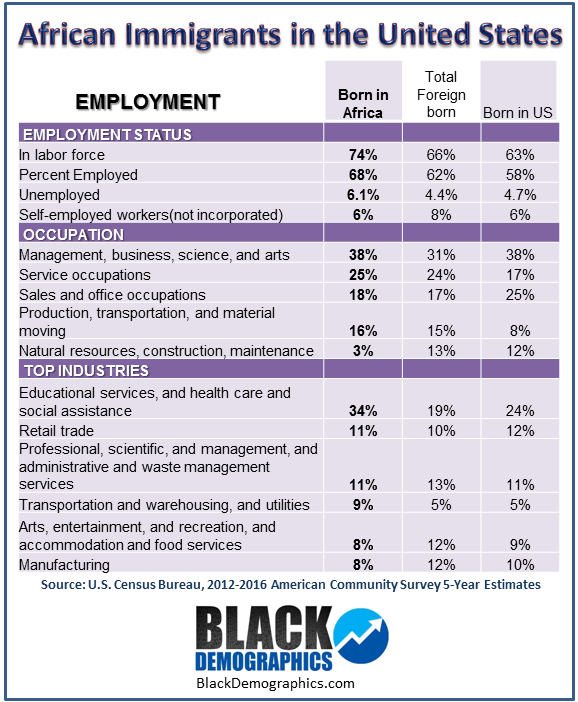 Despite having higher educational attainment, a lager percent in the workforce, and a higher percentage with actual jobs, African immigrants have slightly lower household incomes than immigrants as a whole and $6,000 less annually than US born citizens. Poverty statistics for African immigrants are higher than that of US born citizens but are almost identical with immigrants as a whole.
CLICK IMAGE TO ZOOM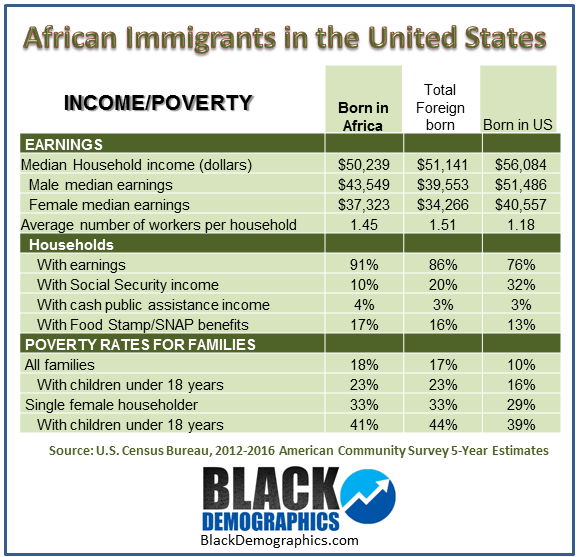 African immigrants are much more likely to rent than US born citizens and immigrants and are more likely to spend more of their earned income on the cost to own and rent their home.
CLICK IMAGE TO ZOOM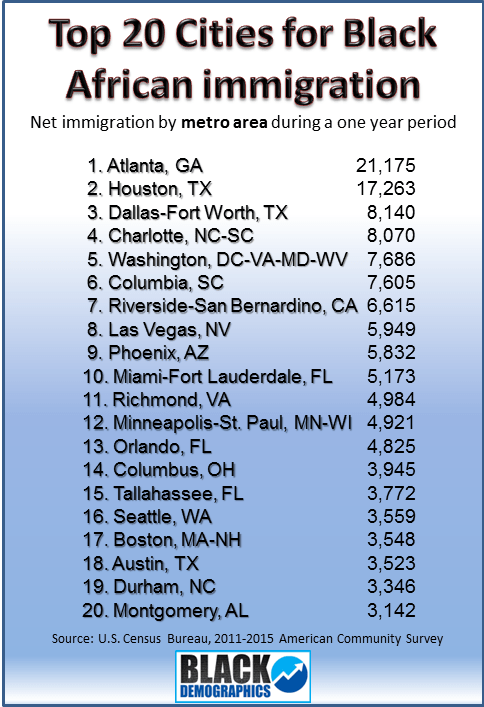 ---
RELATED TOPICS
---
---