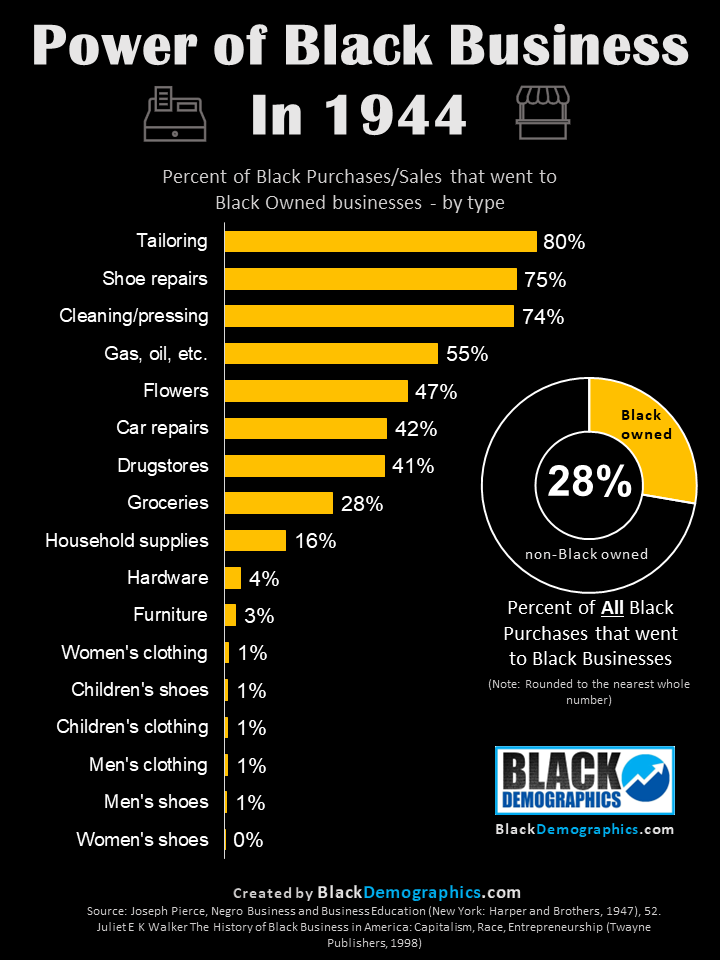 During World War II, black-owned businesses in the United States faced significant challenges due to racial discrimination and segregation. However, a survey conducted by Joseph Pierce found that from 1941 to 1944, these businesses experienced a remarkable increase of 174%. According to the results, 26% of overall purchases of African Americans were transacted at Black owned businesses. The survey also revealed that some businesses, such as hair salons and funeral homes(not included in chart), did not face any competition from white-owned businesses. Other businesses that received a majority of their sales from Black customers were tailoring, shoe repairs, and laundry cleaners.
Interestingly, many of the businesses that were popular among African Americans during the mid-1940s are still commonly used today. However, they are rarely owned by African Americans. For instance, gas and oil stations and distributors were used by 55% of black customers in 1944, while auto repair was used by 42% and drug stores by 41%. Grocery stores were also popular, with 28% of black customers using them.
Black-owned funeral homes (also not included) were a unique business group, with the percentage of black individuals working in the industry matching the percentage of blacks in the American population. They had the largest volume of business in the service industry, while barber, beauty, and cleaning shops were the most numerous. Groceries and restaurants accounted for 75% of total retail sales. Liquor stores and bars also contributed significantly to the sales volume. Other categories in the survey, such as life insurance branch offices and casket factories, had the highest median annual volumes.
Despite facing numerous challenges, black-owned businesses thrived during the mid-20th century and provided essential goods and services to black communities.