---
Akiim DeShay
http://www.onlymoveforward.com/contact.html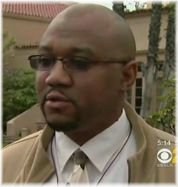 BlackDemographics.com is the brainchild of Akiim DeShay, owner of  OnlyMoveForward.com. This, his third web site is an attempt to create a blueprint of Black America. A single resource for information about African Americans, and how we work, live, learn, vote, and pray.
Born in New England in 1971 and raised in Rochester, New York he had what most would consider a well rounded upbringing. Having attended four high schools and four colleges he began a mission to have a true understanding of Black America in order to be a part of the solution.
In 1992 at age 20 he moved to Dallas, Texas with no degree and only with experience from Rochester's low level factory jobs. But only after 3 years he found himself in telecommunications operations management and responsible for multimillion dollar projects and more than 700 employees. While staying true to his mission and attending college full time, he started an organization in college called BLAC (Brothers Leading And Changing). With the work load of a full time job and full time school becoming too much for the 23yr old he quit school to pursue what he felt was a successful and promising career. Unfortunately, his mission suffered.
After moving to Atlanta and back to his hometown of Rochester, New York he started a family and a new career in IT with no schooling or experience in computers. Only two years after moving his family back to Dallas (2001) he became a Senior Technical Analysts of an internal help desk for a major fortune 500 company.
In mid 2003 he brainstormed the idea of creating a web site that would help potential Black migrants discover what life is like as an African American in Dallas. Unfortunately, before the site could be completed he became very ill and was diagnosed with Acute Myeloid Leukemia. He was able to beat the odds and with only 10-15% percent chance he survived. He completed the site while spending several months in the hospital receiving chemotherapy and a bone marrow transplant. As a matter of fact, he launched his site BlacksinDallas.com from the hallway Hospital's Stem Cell Transplant Center a week after receiving his transplant on Good Friday, April 2004.
Recovery was long and very difficult. For more than 3 and a half years, physical pain and suffering was part of his daily life. Since his transplant Akiim helped start a campaign in Dallas to recruit African Americans to join the National Marrow Donor Programs registry to help save Black lives. For this he created the website BlackBoneMarrow.com.
BlackDemographics.com was created in 2007 to be the top resource for information regarding African Americans. This is meant to be a one stop unbiased site that showcases only the facts where people can see what Black America looks like without having to spend hours on the Internet. He has been praised by many across the country for this site which has grown tremendously since its start.  During the Election of President Barack Obama the entire world used this web site to gather information about the African American population.