Black Women: Statistics
According to the American Community Survey from the US Census Bureau the Black female population in the United States was 21.7 Million in 2018. This is 52% of the total Black population compared to Black males who make up 48% of the Black population.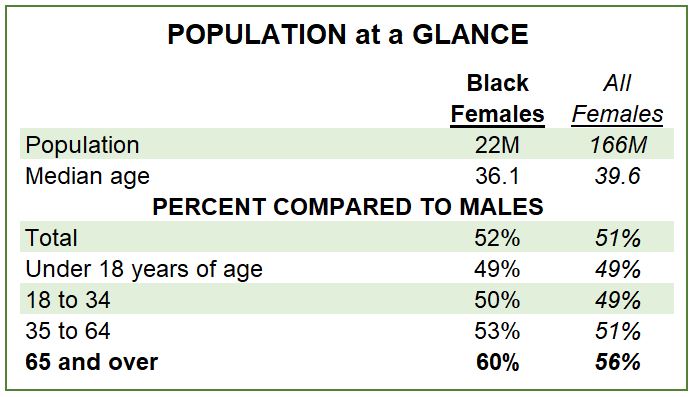 Compared to all females in America Black females are on average younger at 36 years old compared to the age of 'all females' at 40 years old. Black female children (under 18 years old) are at the same percentage as 'all female children' to their respective populations at 49%. The percent of the population who are females increases much quicker for the Black population as they get older due to a higher mortality rate of Black men. This considering that women of all races and ethnicities have a longer lifespan than men.
More about Population…
---
EDUCATION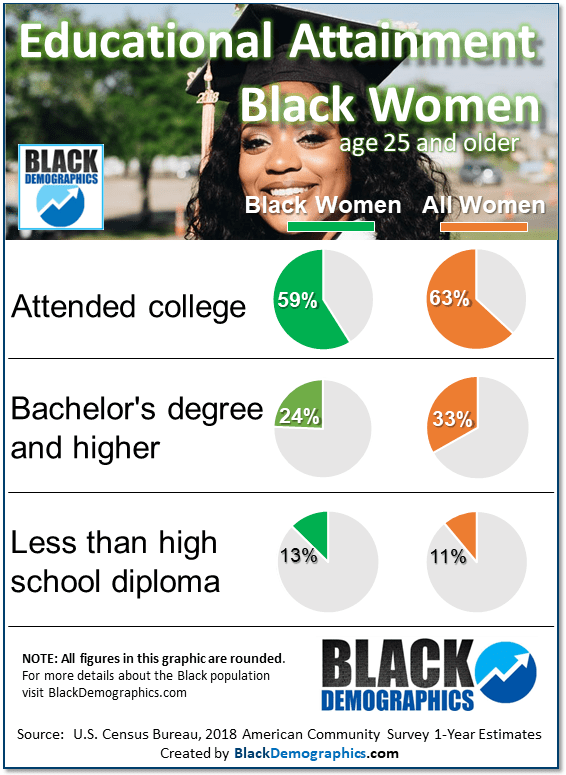 In 2018 about 59% of Black women 25 and older attended college although only about 35% have completed at least an associates degree compared to 63% of 'all women' who attended college of which 42% completed a degree (see chart below).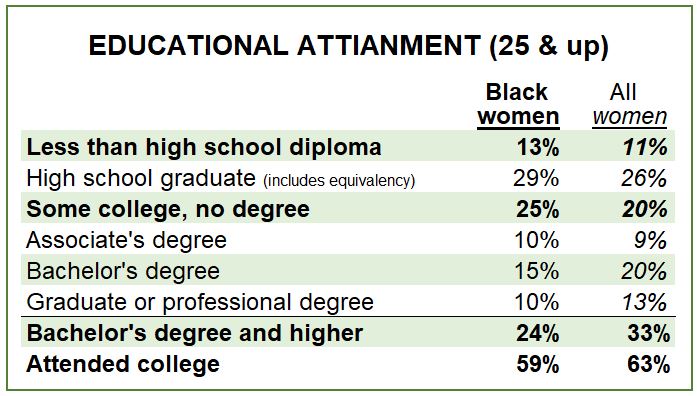 (note that numbers may not add up to 100% because of rounding)
Black women have been more successful than Black men in closing the education gap when it comes to college degrees. About 24% of Black women have a bachelors degree or higher compared to 33% of 'all women' (for Black men it's 19% to 32% for all men). The number of Black women who finished high school but did not pursue higher education is slightly higher than it is for 'all women', 29% compared to 26% respectively.
The percent of Black women who have an associates degree (10%) is about equal to that of 'all women' (9%) in America. Only 13% of Black women over 25 did not complete high school which is only slightly higher than 'all women' at 11 percent.
More About Education…
---
EMPLOYMENT
African American females ages 16 to 64 had a slightly higher participation rate in the labor force (72%) compared to 'all females' (71%) (see below table). Labor force participation refers to the percent of women who were either working or looking for work. Women not in the labor force include those who may be full time students, disabled, and others who are not looking or gave up looking for employment for other reasons.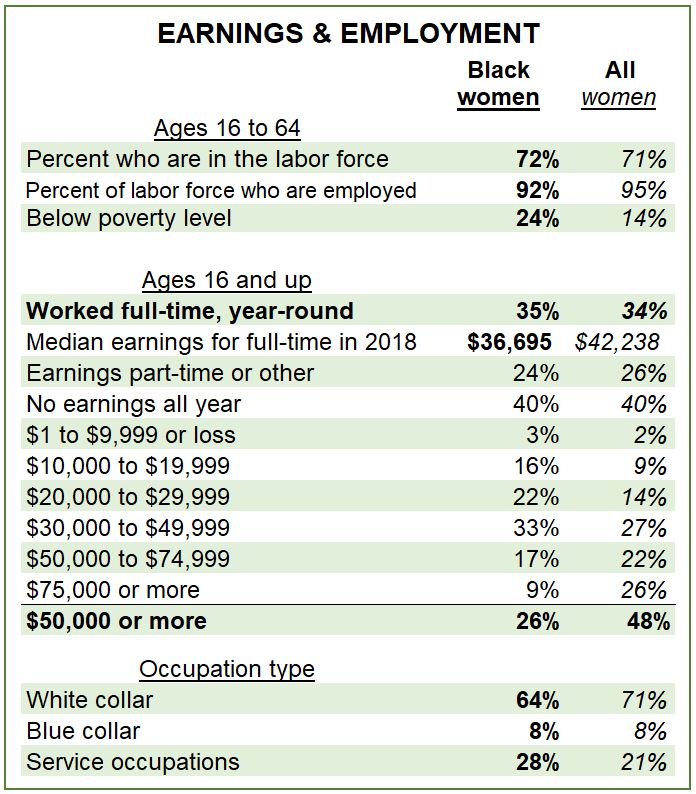 The 35% of African American women who worked full time all year in 2018 had median earnings of $36,695 in compared to $42,238 for 'all women' (above table). Of Black women ages 16 years and older, 40% had no earnings in 2018 which was the same as 'all females' in the same age group. Only 26% of Black women made $50,000 or more in 2018 compared to 48% of all women and 29% of Black women were living below the poverty level compared to 14% of all women.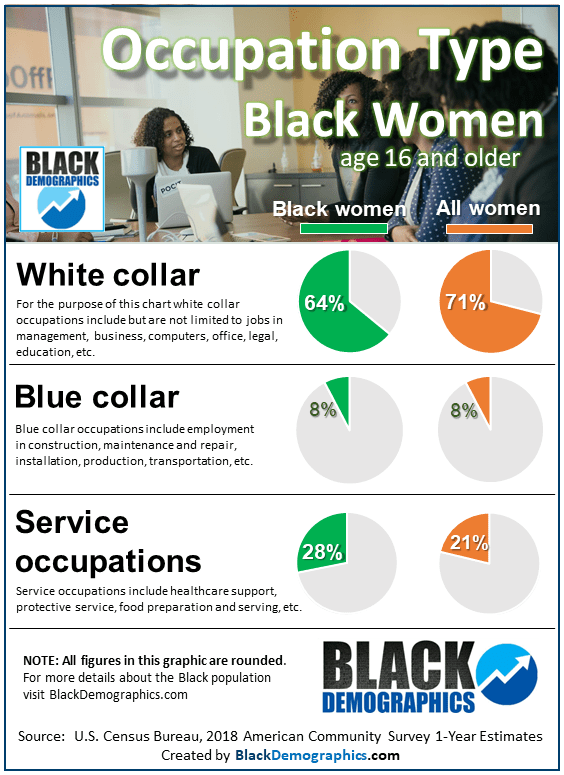 Compared to 'all women' in the United States Black women who worked were less likely to work in occupations that may be considered white collar and were much more likely to hold service jobs. Only 64% of working Black women held white collar jobs compared to 71% of 'all women' (see above chart). For the purpose of the above table white collar occupations include but are not limited to jobs in management, business, computers, office, legal, education, etc.
Blue collar occupations which were held by 8% of working Black women include employment in construction, maintenance and repair, installation, production, transportation, etc. Service occupations include healthcare support, protective service, food preparation and serving, etc.
More about Employment…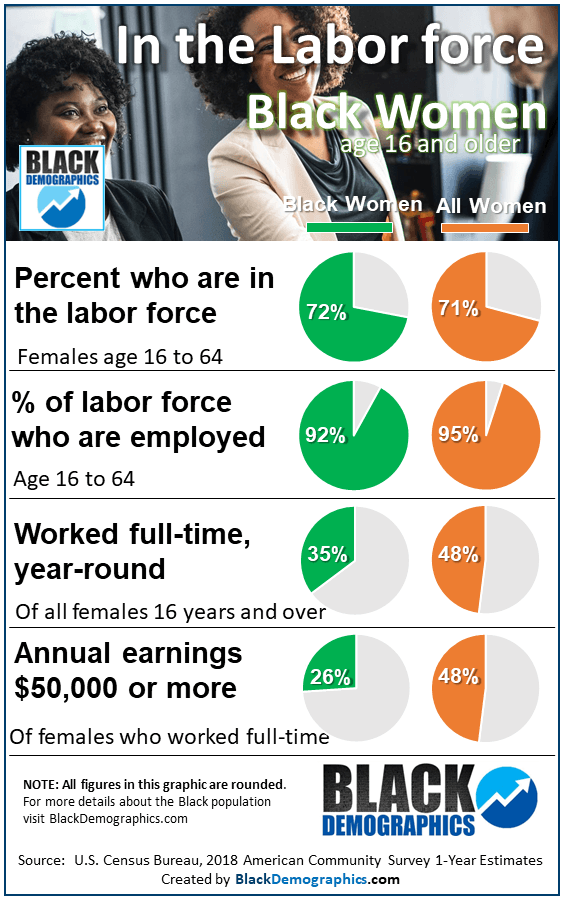 Even though Black women are over-represented in the workforce they still have a higher unemployment rate than 'all women', 10% to 6% respectively. All of these factors help explain the higher poverty rate for Black women (29%) than 'all women' at 17 percent.
---
RELATIONSHIPS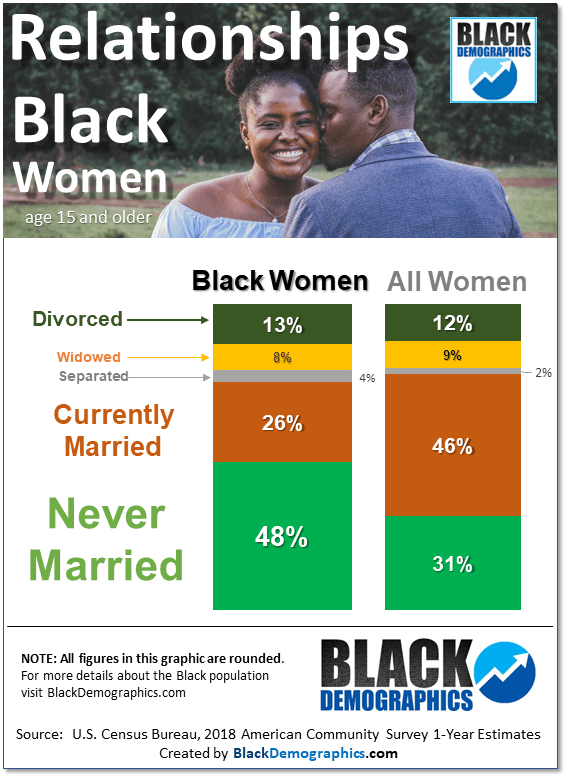 The percentages of Black women who are married and who have never been married are almost the exact opposite of those percentages for 'all women' in America (left chart). Although 48% of Black women have NEVER been married 46% of 'all women' are CURRENTLY married. Only 26% of Black women are currently married while only 31% of 'all women' in America have NEVER been married. Black women are slightly more likely to be separated from their spouses (4%) compared to all women at 2% but are just as likely to be divorced (13%) compared to 12 percent.
Black women are less likely to be married than Black men. As a matter of fact there are about 364,000 more Black men who are married than Black women even though Black women are 51% of the Black population. While an overwhelming percentage of Black women are married to Black men (94%), about 86% of Black men are married to Black women.
More about Marriage…
---
OTHER CHARACTERISTICS
Black women are the head of 27% of all Black households in 2018 which is more than twice the rate for 'all women' at 12 percent. These are households defined by the U.S. Census Bureau as having a female head and no spouse present. Only 37% of Black women who gave birth were married which is almost the opposite for 'all women' at 66%. These are some of the issues factor into a much higher poverty rate of 24% for Black women compared to a 14% poverty rate for all women.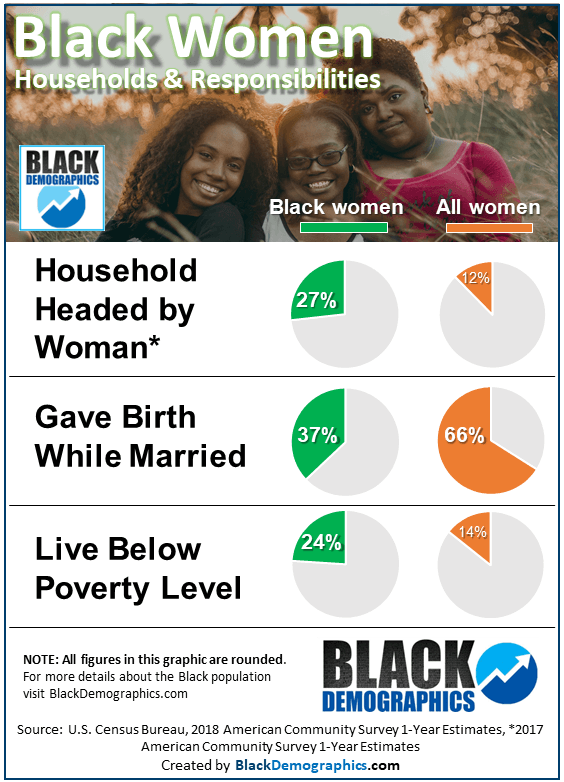 These additional responsibilities may also explain why Black women are slightly over-represented in the workforce compared to all women.
---
---
RELATED TOPICS