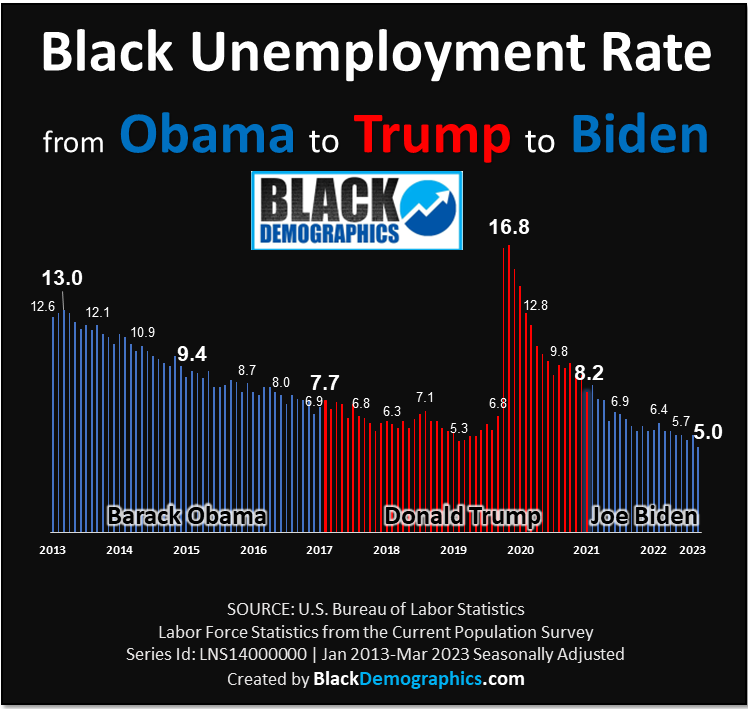 Black Unemployment Rate March 2023: 5.0%
down from Febuary (5.7%). U.S. unemployment rate: 3.5%
Historic Low for Black Unemployment Rate in March 2023: Closing the Gap and Increasing Labor Force Participation"
In March 2023, the Black unemployment rate achieved a record low of 5%. Although this rate is still 1.5% higher than the overall American unemployment rate, it represents a considerable reduction in the employment gap that has persisted for many years.
The gap between Black and overall unemployment rates has diminished significantly compared to both pandemic and traditional levels, when Black unemployment rates were often twice the overall rate.
A noteworthy development is the increase in labor force participation among African Americans, with their participation rate now surpassing that of the general American population.
Data from the Bureau of Labor Statistics (Department of Labor) shows that the unemployment rate in 2013 was 13%, as the economy was recovering from the 2008 Great Recession. The downward trend continued during the Obama and Trump administrations, reaching a historic low of 5.3% in 2019. However, the pandemic led to temporary closures and long-term impacts on industries such as tourism, restaurants, and entertainment, causing the Black unemployment rate to surge to 18.8% in 2020.
The declining unemployment rate trend began during the latter part of the Trump administration and continued under the Biden administration, ultimately reaching the all-time low of 5.0% in March 2023.
The widespread adoption of remote work during and after the pandemic is believed to have played a role in lowering the unemployment rate for African Americans, as it allowed those living far from job centers to find employment. The recovery of industries severely affected during the pandemic has also contributed to the decline in unemployment rates.
Another factor potentially driving more African Americans into the workforce is the financial strain caused by inflation, high rents due to the housing crisis, and labor shortages experienced by many companies. A larger percentage of African American renters (58%) spend more than the recommended 30% threshold of their income on rent, compared to all American households (51%). It is important to note that the majority of African American households are renters (56%), while the national average is 35%. The significant rise in rent across various housing markets in the United States may further encourage more African Americans to join the workforce.
Additionally, African American homeowners with a mortgage (36%) spend more than 30% of their household income on monthly homeowner costs, compared to 28% of all Americans.
---