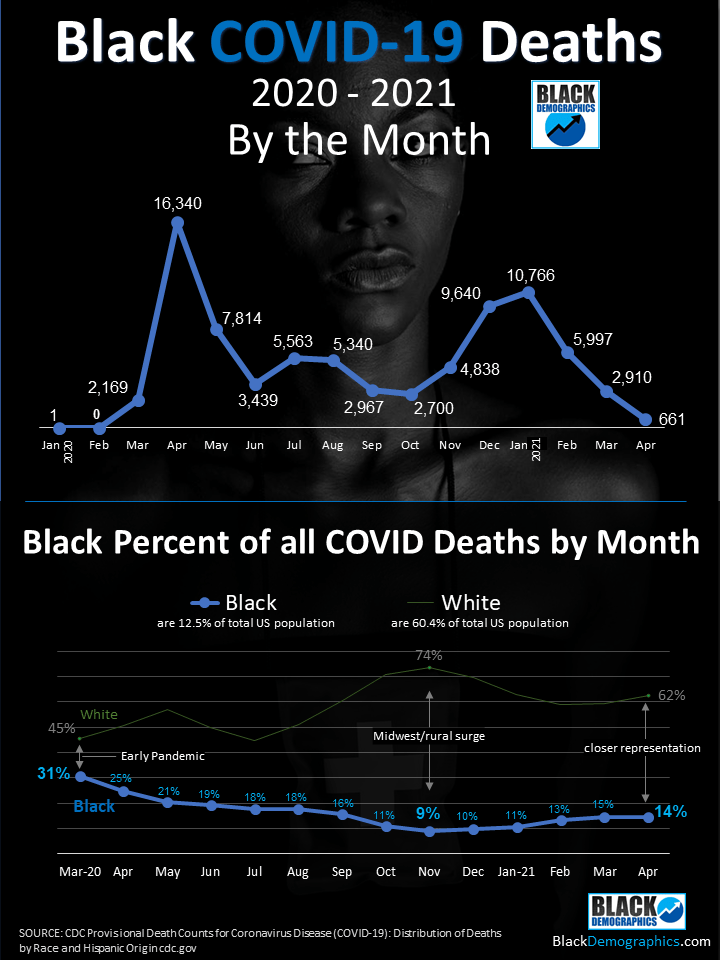 Early in the pandemic it was widely reported that African Americans were being severely affected by COVID-19 cases and deaths. In early April, 2020 several news outlets were reporting that 70% of COVID deaths in Louisiana were African American, as were 58% of COVID deaths in Illinois, 40% in Michigan, and by April 8th ALL COVID-19 deaths recorded in St. Louis were Black. These alarming reports quickly dispelled rumors previously brewing in the Black community that we were somehow immune to COVID and even caused some pushback accusing the media of trying to make African Americans the face of the pandemic.
Looking back at the data from the CDC and how the pandemic unfolded in the United States we can see that African Americans were indeed disproportionally affected in the early months of the pandemic. In March 2020, the first month of significant deaths from the virus 2,169 non-Hispanic African Americans died represented 31% of all COVID deaths in the United States despite only constituting 12.5% of the population according to the CDC. This compared to non-Hispanic Whites making up 45% of COVID deaths while comprising 60.4% of the US population. The following month (April) represented the highest number of Black deaths from COVID (16,340) so far made up 25% of COVID deaths that month.
What we know is that COVID-19 came into the US via travel from Europe and Asia hitting metropolitan areas with large numbers of African Americans who were more exposed. African Americans are over-represented in sectors of the workforce that bring them into contact with the public. Even as shutdowns were ordered as we noted in this post African Americans are also over-represented in occupations that were deemed essential such as healthcare and delivery services which found themselves suddenly overwhelmed.
However as the virus spread throughout the country the affect on both communities changed drastically. In September it became quite clear that there was a large surge of COVID cases and deaths in the smaller Midwest cities and towns in much of rural America. By November 2020 non-Hispanic Whites were over-represented in COVID deaths (74%) while at the same time African Americans were under represented in deaths (9%).
In addition, a nationwide surge began during the holiday season increasing the death count of African Americans in December and January (more than 20,000 death combined) bringing both Black and White populations with COVID-19 death rates closer to their representation of the American population as a whole.