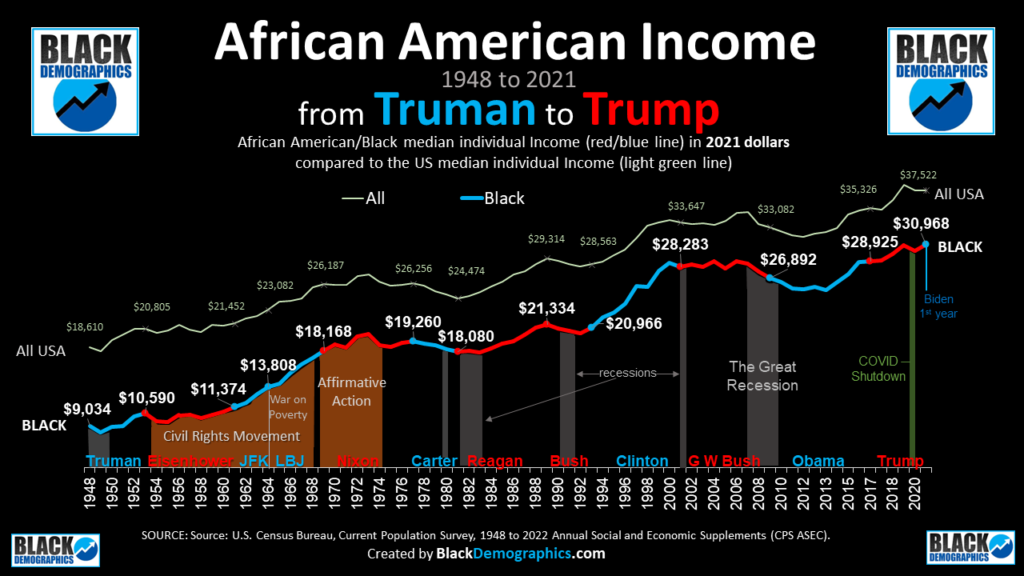 NOTE: an earlier version of this article incorrectly listed this data as Household income. Corrections have been made to relabel as median individual income. (10/17/2022)
An indicator of Black upward mobility is not only to measure income but to look at whether or not the income gap (the difference between median Black income and overall American median income) increased or decreased.
In 2021 every Black dollar earned was only worth 83 cents of every American dollar when comparing median income of Black individuals to all Americans. That's $30,968 Black income vs $37,522 USA income.
This (83¢) was down from its peak in 2004 when every Black dollar was worth 87 cents of every American dollar (or $28,962 income vs $33,378 income) indicating the closest the gap has ever been. This however was followed by a nine year decrease, and did not start to rebound in 2013.

There has always been a gap between Black income and American income in general. In 1948 Black income was just 50 cents for every American dollar and did not change throughout entirety of the 1950s.
In the 1960s the Black income increased from 50 cents to 72 cents for every American dollar in 1970. This closed the gap considerably, however after 1970 the income gap remained almost unchanged for 23 years until 1992. From there it increased reaching a lifetime high of 87 cents for every American dollar in 2004. From there it began decreasing hitting a low in 2013 at 78 cents for every American dollar rising to only 83 cents by 2021 and never reaching it's peak again.
---
BLACK INCOME COMPARED TO OVERALL AMERICAN MEDIAN INCOME
1948 -1960 flat at 50 cents for every dollar ( flat for 12 years)
1960-1970 up from 50 cents to 72 cents (grew 10 years)
1970-1993 flat at 72 cents (flat 23 years)
1992-2004 up from 73 cents to 87 cents (14 years/ peak)
2004-2005 down from 87 cents to 83 cents (1 year)
2005-2013 down from 83 cents to 78 cents (another 8 years)
2013-2017 up from 78 cents to 83 cents dipping to 80 in 2020 and ending with 83 cents in 2021
---
BLACK INCOME COMPARED TO WHITE MEDIAN INCOME
1948 -1959 45 cents (for every White dollar/flat for 11 years)
1959-1973 45 cents to 70 cents (increase 14 years)
1973-1993 70 cents (flat for 20 years)
1993-2000 70 cents to 80 cents (increase 7 years/ peak)
2000-2008 80 cents to 76 cents (down 8 years)
2008-2013 76 cents to 70 cents (down another 5 years)
2013-2017 70 cents up to 75 cents dipping to 72 in 2019 and 2020 and ending with 75 cents in 2021