African American Employment
In 2012 The U.S Census Bureau released a report that studied the history of marriage in the United States. They discovered some startling statistics when calculating marriage by race. They found that African Americans age 35 and older were more likely to be married than White Americans from 1890 until sometime around the 1960s. Not only did they swap places during the 60s but in 1980 the number of NEVER married African Americans began a staggering climb from about 10% to more than 25% by 2010 while the percentage for White women remained under 10% and just over 10% for White men. The first two charts below are charts included in the report only the headings have been altered by BlackDemographics.com to outline these findings.
The third chart illustrates how closely the marriage graph for Black men aligns with the incarceration numbers which also experienced an abnormal climb beginning in 1980. This does not prove causation however it shows that they are related due to the assumption that men in prison are less likely to marry.
Although African Americans have an unemployment rate almost double that of the overall population, the Black workforce is just as diverse. Because the federal government was one of the first to integrate, African Americans have been over represented in that sector.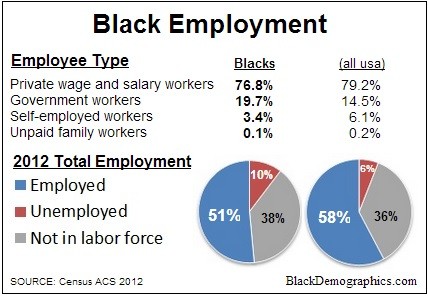 More than 20% of the Black working population over 16 years old are employees of the federal, state, or local government which is just over 5 percentage points higher than the national average. On the other end a much smaller percentage of African Americans are self-employed (3.6%) than the national average of 6.2%. 
Occupations of African Americans
Black women have made the greatest strides recently. In 2011 33% of Employed Black women have jobs in management or professional occupations compared to 23% of employed Black men. As a matter of fact 64% of working African American women hold "white collar" occupations compared to 50% of African American men. Thirty six percent of employed Black men hold "blue collar" occupations compared to 8% of Black Women.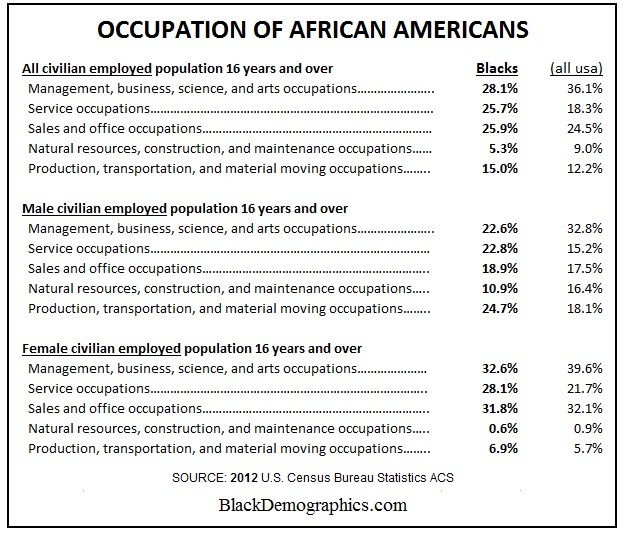 The below chart categorizes the African American workforce by industry. As you can see we are again overrepresented in government jobs such as education, social assistance, and public administration. African Americans also have a large presence in the health care industry which is expected to see substantial job growth for the foreseeable future.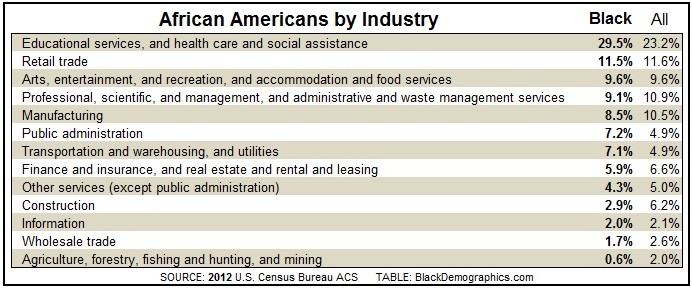 Among the major race and ethnicity groups, Hispanics continued to have the highest labor force participation rate (68.5 percent) in 2008, while the participation rate for blacks was the lowest (63.7 percent). The participation rates for whites (66.3 percent) and Asians (67.0 percent) were roughly midway between the rates for blacks and Hispanics, continuing a long-term pattern.(by Shandira Pavelcik)
| | | | | |
| --- | --- | --- | --- | --- |
| Years | White | Hispanic | Asian | Black |
| 2000 | 67% | 68% | 67% | 65% |
| 2010 | 66% | 68% | 67% | 64% |
SOURCE: 2010 U.S. Bureau of Labor Statistics