| | | |
| --- | --- | --- |
| State Data | Black Alone | Total State |
| Population (ACS estimate) | 3,323,900 | 10,799,566 |
| Median household income | $51,590 | $66,559 |
| Bachelor's degree or higher | 27.8% | 34.6% |
| Family poverty rate | 16.6% | 10.6% |
| Percentage households Married-couple families | 30.5% | 47.0% |
| Homeowner rate | 50.8% | 66.0% |
Source: U.S. Census Bureau, 2021 American Community Survey 1-Year Estimates
---
---
POPULATION
In 2023, Florida has a considerable Black population, with African Americans constituting a significant portion of the state's residents. According to the 2020 census data, the Black/African American alone population in Florida was around 3,289,522, accounting for approximately 16% of the state's total population.
GROWTH
Between 1990 and 2020, the Black population in Florida saw substantial growth, increasing from around 1.9 million to over 3.2 million. This growth was driven by both natural increase and in-migration from other states and countries. As the African American population continues to grow, it has made significant contributions to the political, economic, and cultural landscape of Florida.
The most significant concentrations of Florida's African American population can be found in urban areas such as Miami, Fort Lauderdale, Tampa, Orlando, and Jacksonville. Additionally, smaller cities, towns, and rural areas across the state are home to many Black residents.
MIGRATION
Florida has experienced an influx of African Americans from various regions during the Great Migration and between 1990 and 2020. Many Black people migrated from Southern states, such as Georgia, Alabama, and Mississippi, in search of better opportunities. Florida also witnessed an increase in its Black population due to migration from Caribbean countries like Haiti, Jamaica, and the Bahamas.
INDUSTRIES AND WORKFORCE
Historically, Black people in Florida were primarily involved in agricultural work, including citrus farming, sugarcane cultivation, and other labor-intensive industries. Over time, the African American workforce diversified, finding employment in manufacturing, construction, education, healthcare, and service sectors.
In the present day, African Americans in Florida work across various industries, including technology, healthcare, education, tourism, and entertainment. There has been a noticeable increase in Black entrepreneurship, with many small businesses owned and operated by African Americans contributing significantly to Florida's economy.
HISTORY
The presence of African Americans in Florida dates back to the Spanish colonial era in the 16th century, with the first documented arrival of enslaved Africans in the region. Florida later became a hub for escaped slaves seeking freedom, with many finding refuge in the state.
Following the Civil War and the subsequent emancipation of enslaved people, Florida's Black population continued to grow. Many African Americans remained in the state, working as sharecroppers, tenant farmers, or laborers in various industries. During the Great Migration in the early 20th century, a considerable number of Black residents left the South, including Florida, in search of better opportunities in the industrial North. However, Florida's Black population still experienced growth during this time, reaching approximately 570,000 by 1940.
As the African American population in Florida has grown and diversified, it has contributed significantly to the state's political, economic, and cultural landscape. African American leaders and activists have made substantial strides in local and state politics, while the state's entertainment, music, and arts scenes have been heavily influenced by the contributions of Black artists and creatives.
BELOW ARE OLDER CHARTS AND DATA: UPDATES COMMING SOON
---
Black Population in Florida by Metropolitan Areas
(2010 Census Black alone)
Miami – Fort Lauderdale: 1,169,185
Orlando: 344,820
Tampa – St. Petersburg: 329,334
Jacksonville: 292,881
Tallahassee: 119,320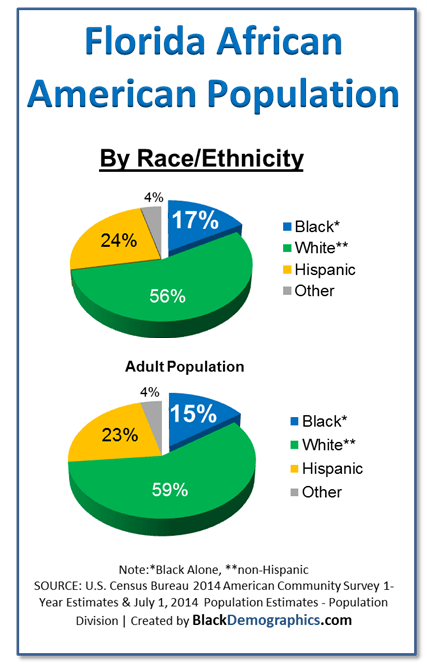 According to the US Census Bureau official population estimate the 2014 'Black or African American Alone' population of Florida was 3.3 million (3,337,159) which was 17% of the entire state. The term 'Black or African American Alone' refers to individuals who identify by race as only Black and listing no additional race.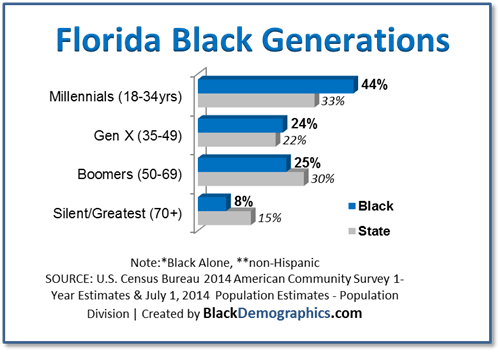 Forty four percent of Black adults (over 18) in Florida are Millennials (18 to 34yrs) compared to 33% of all Florida Millennials. Black Millennials made up the largest of the four generational categories which also include Generation X (35 to 49yrs), Baby Boomers (50 to 69yrs), and the Silent and Greatest Generations (combined 70yrs and up).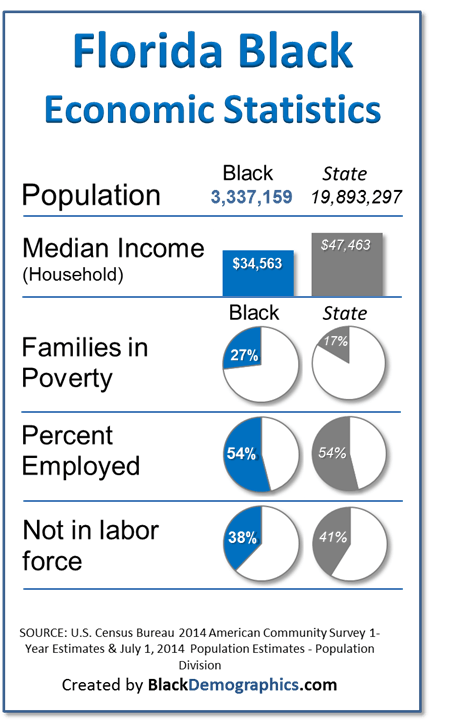 According to the US Census Bureau 2014 American Community Survey 1-Year Estimates, 27% of Black families live below the poverty level higher than the poverty level of the average Florida Family at 17%. The percentage of African Americans over 16 years old who were employed was 54% which was identical to the the overall population of Florida. However only 38% of African Americans 16 and up were not in the labor force compared to 41% of all Florida residents.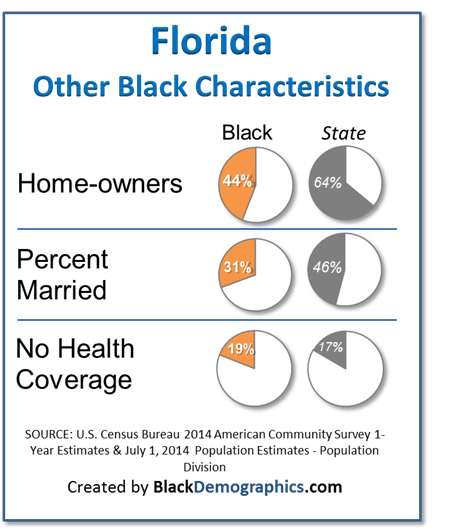 Only 44% of African American householders in Florida are homeowners compared to 64% of all Florida householders. Also only 31% of African Americans in Florida 15 years and older are married compared to 46% of all Florida residents in the same age group. Nineteen percent of African Americans in Florida have no health insurance coverage compared to 17% of all Florida residents.
Although many are of Caribbean descent, several of these new migrants are not coming from the Islands or other nations. Many are moving from the Caribbean/West Indian communities of the big cities in the northeast. They move to Florida for the better weather without having to sacrifice culture. There are also approximately 100,000 who claim Sub-Saharan African ancestry.
The largest percentages of those who claim a foreign ancestry live in southern Florida communities such as Miami-Dade and Fort Lauderdale. The Black population in Northern Florida consists mostly of African Americans who claim American ancestry in places such as Jacksonville, Sanford, and Tallahassee. Northern Florida is much more like the rest of the south regarding racial demographics and culture.
---
Get the Complete Florida African American Population Report