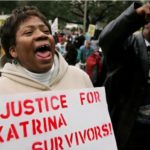 The San Francisco Bay View (National Black Newspaper) released its latest annual "Katrina Pain Index" which tracts statistics to highlight how changes in post-Katrina New Orleans have affected the Black community there.  This years report is titled: Katrina Pain Index 2016: Race and class gap widening. Some highlights include:
"Some 2,000 Black median income in New Orleans rose from $23,000 in 2005 to $25,000 eight years later, while white median income rose by $11,000 from $49,000 to $60,000 during the same time.
6,811 White population of New Orleans is down from 128,871 in 2000 to 122,060 in 2015 according to The Data Center.
7,023 Hispanic population in New Orleans grew from 14,826 in 2000 to 21,849 in 2015. There has been significant growth in the Hispanic population in the metro New Orleans area, from 58,545 in 2000 to 109,553 in 2015, mostly in Jefferson Parish."
See article here: Katrina Pain Index 2016: Race and class gap widening