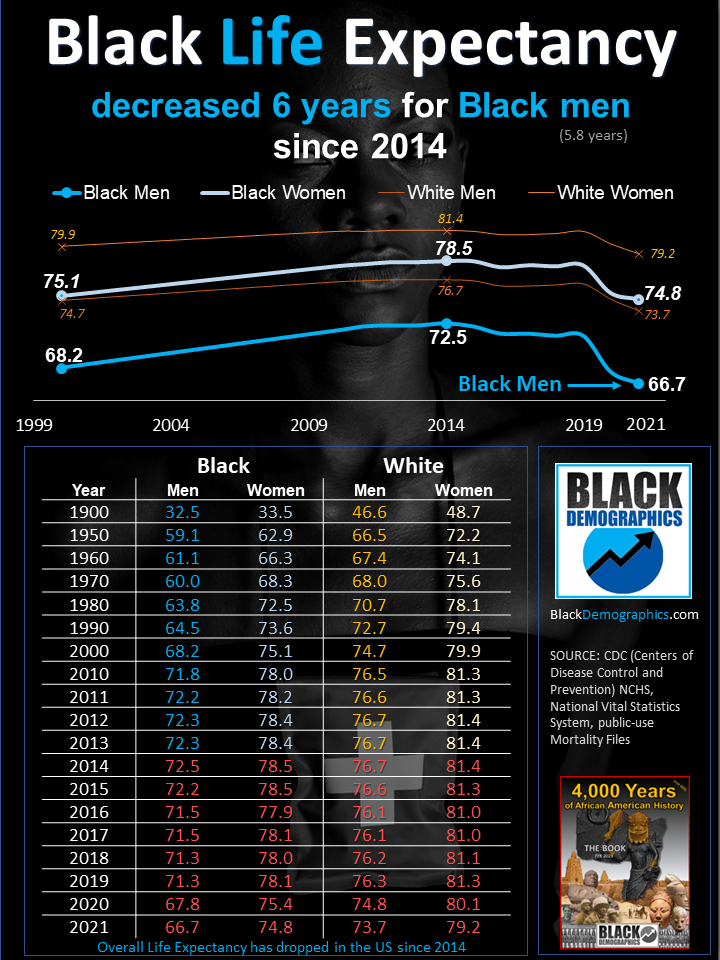 The overall Life expectancy in the United States peaked in 2014 for all races and ethnicities, then it began dropping slightly before the pandemic.
Drug overdoses and suicides attributed greatly to the US life expectancy decreases since 2014. The opioid crisis hit America especially hard and now there are growing numbers of people who are dying after unknowingly ingesting fentanyl which is being added to illegal drugs.
Suicide rates had also increased greatly since 2013 even doubling in the Black community. Then the pandemic made it worse. In 2020 Covid-19 was the third largest cause of death affecting all populations.
Life expectancy for Black men dropped 5.8 years from 72.5 years to 66.7 years since 2014. Black women have seen a decrease of 3.7 years from 78.5 to 74.8 years with is still one year longer than White men. White men have lost 3 years and White women 2.2 years. In 2021 Native Americans had the lowest life expectancy at 65.2 years.
---
Comparative Analysis: Shooter's Zip Code versus Victim's Zip Code On August 26th, 2023, a deeply troubling incident unfolded. A man, possibly influenced by the conspiracy theory known as "the great replacement," and although he may have suffered from mental illness, seized upon a growing and hateful ideology that has beenContinue Reading

---

The old saying "Last Hired and First Fired" that has been imbedded in Black American culture is ringing true – at least the later part. Recent data paints a worrying picture for African Americans, as unemployment figures have increased notably. Since April, 267,000 more African Americans are unemployed, contributing toContinue Reading

---

Click Chart Below to Zoom Here at BlackDemographics.com we have recently and frequently been asked about statistics regarding single Black men and women and availability. There seems to be disagreements on social media about the availability, education, and education of single Black men compared to women. So we decided toContinue Reading

---