Florida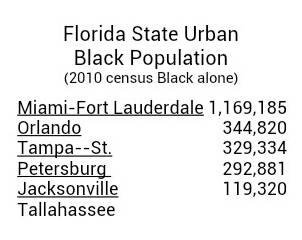 In 2011 Florida had the second largest Black population of any state in The United States. With 3,141,840 Black residents Florida ranks just under New York and just above Texas. Florida is unique in that almost a third of its Black population claims a foreign ancestry. This is mostly due to the huge influx of Haitians, Jamaicans, Dominicans, and others of African descent from the Caribbean. Of the approximately 780,000 Blacks of West Indian descent about 420,000 are Haitian and 250,000 are Jamaican. Those with Hispanic ancestry from places like Puerto Rico and the Dominican Republic who claim Black as their only race number 123,659.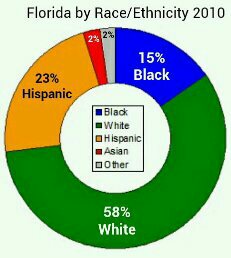 Although many are of Caribbean descent, several of these new migrants are not coming from the Islands or other nations. Many are moving from the Caribbean/West Indian communities of the big cities in the northeast. They move to Florida for the better weather without having to sacrifice culture. There are also approximately 100,000 who claim Sub-Saharan African ancestry.
The largest percentages of those who claim a foreign ancestry live in southern Florida communities such as Miami-Dade and Fort Lauderdale. The Black population in Northern Florida consists mostly of African Americans who claim American ancestry in places such as Jacksonville, Sanford, and Tallahassee. Northern Florida is much more like the rest of the south regarding racial demographics and culture. 
SOURCE: US Census Bureau 2011 American Community Survey

Florida Detailed African American Population Profile
(use the scrollbar on the right to scroll down to view the entire report/ zoom in and out as needed)
<![if !IE]><![endif]>