Marriage in Black America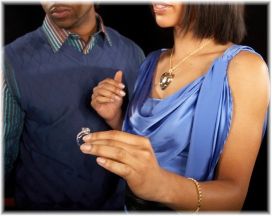 It is widely accepted that black women are least likely to marry than any other women in America. But after viewing the true data, we can see that although fewer black women are "now married", more black women marry at least once than black men. In 2010 48.8% of black men are "never married" compared to 45.2% of black women which is up from 44% in 2008 and 42,7% in 2005.

It is also believed that a large percentage of Black men marry White women. This is cited as the cause of low marriage rates among Black women. This however is only partially true. While Black men marry white women at twice the rate of Black women only 8.5% of married Black men had White spouses in 2010 up from 6.6% in 2005. 10.8 percent of African American men married outside their race in 2010 also up from 8.4% in 2005. It is Asian women who have the highest rates of intermarriage which is twice that of Black men. Black women were the least likely to marry outside their race at only 4.6% in 2010 up from 3.6%, and only 3.9/% married to White men up from 2.8 in 2005.