Ohio
According to 2020 census data, the Black/African American alone population in Ohio was around 1,478,781, which accounts for approximately 13.2% of the state's total or 1,704,492 (Black in combination with one or more races) 14% of the population.
| | | |
| --- | --- | --- |
| State Data | Black Alone | Total State |
| Total population (ACS estimate) | 1,478,781 | 11,780,017 |
| Median household income | $37,860 | 62262 |
| Bachelor's degree or higher | 19.2% | 30.7% |
| Family poverty rate | 24.1% | 9.4% |
| Percentage households Married-couple families | 20.7% | 44.7% |
| Homeowner rate | 36.0% | 67.2% |
Source: U.S. Census Bureau, 2021 American Community Survey 1-Year Estimates
---
| | | |
| --- | --- | --- |
| 2010 | Black Population | Percent Black |
| Cleveland | 416,528 | 20.1% |
| Columbus | 273,560 | 14.9% |
| Cincinnati | 242,532 | 14.9% |
| Dayton | 125,815 | 15.0% |
| Toledo | 87,455 | 13.4% |
| Akron | 84,807 | 12.1% |
| Youngstown | 54,850 | 12.2% |
GROWTH
Between 1990 and 2020, the Black population in Ohio experienced steady growth, increasing from approximately 1.2 million to over 1.5 million. This growth has been driven by both natural increase and in-migration from other states. As the African American population continues to grow, it has contributed to the political, economic, and cultural landscape of Ohio.
A substantial proportion of Ohio's African American population resides in the metropolitan areas of Cleveland, Cincinnati, and Columbus. Other urban areas, such as Dayton, Akron, and Toledo, also host significant Black populations. Additionally, there are numerous Black residents living in smaller cities, towns, and rural areas across the state.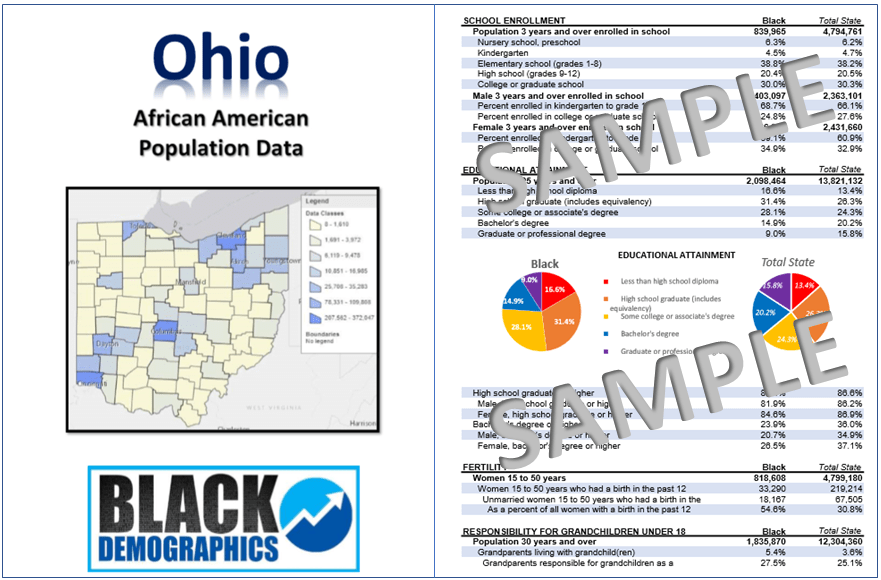 ---
Ohio's African American Origin and History
researched and written by Shandira Pavelcik
1700s
Ohio, Iroquois for "good/large river", became the 17th union state in 1787 just after the American Indian Wars due to the Northwest Territory and the Northwest Ordinance. Ohio's first Constitution announces the abolishment of slavery, which was the condition for all of the NW Territory. Many settlers came to Ohio by invitation or as land grants for military service to occupy and assist in the protection of the land from the Indians. The few African Americans that did settle were recorded at a population of 337 in 1803, where the total Ohio Population was 45,000. Because slavery was not allowed, each Black person was counted and not included in the 3/5 persons provision. The US African American total population in 1800 was 1,002,037.
Many of the African Americans that were early settlers of Ohio came with former masters, runaway slaves of the south and those that had never been enslaved, freed men and women.
Some early recordings are of James Davis, born March 6, 1787 as the first African American born in Marietta, Ohio. He was later noted as moving to Dayton, OH and becoming a successful Barber, accomplished violinist, and founder of American Sons of Protection, the oldest African American self-help society. In 1797, Arthur Boke is the first Black Man to settle in Franklinton (Columbus).
1800s
Early ties to Jefferson & Washington
In 1803, Henry Hill is recorded as married to Eve Nickens in Ross County Ohio, later he settled in Columbus where Henry was a tanner and taught his son the trade as well. His family attended the First Anti-Slavery Baptist Church of Chillicothe. His son was one of the first teachers in the area.
Another man, William Dailey, also showed as registered married in Chillicothe, Ross County, in 1825. He is known to have been a servant to George Washington, a courier for Thomas Jefferson and volunteer Sailor during the Revolutionary War. There is no record of his freedom, but to be a volunteer in war is a status of a freed man. In 1800, he owned a hotel and bread making business that he continued when he moved to Ohio. He lived well with a wagon cart of bread being sold daily known as Dailey Bread. The first African American church in Ohio was founded in Burlington in 1807. In 1805, John Newton Templeton was born a slave but emancipated at 8-years old by his owner's will in 1813. The owner's children took the freed slaves to Adams County, OH. In 1824, Templeton entered Ohio University. Four years later, he received his bachelor's degree, becoming only the fourth African American college graduate in America and the first in the Midwest.
There was Fanny Demint lived until 1827, a former slave and married to another servant of Thomas Worthington. She made her way to a freed woman by being a caterer. Sarah Woodson Early, an educator and Temperance advocate. Her father was the son of Thomas Jefferson and his slave Sally Hemings. She was a teacher in many Ohio communities and in 1859 went on to teach English at Wilberforce University.
The Ohio Black Laws and the Abolitionist Movement
In 1804, the Black Laws were enacted by the Ohio Legislature which affected the settlements of African Americans because of the restrictions of employment and punishment for harboring slaves. The court system further prevented African Americans to testify in the court system. A second set was introduced in 1807 which added the "stipulation that African Americans be allowed to settle in Ohio only if they can provide $500 bonds". This leads to increasing the Suffrage laws until 1829/1831/1849. Even with these restrictions, the population continued to grow with 1,899 African American Residents in Ohio by 1810.
Approximately 1800, Bazeal, Norman Sr. a free man from Maryland was awarded by the War Department with a gun, a mule, an $8-a-month pension and land in Marietta, OH. In 1814, Richard Fisher is recorded as the first African American landowner in Ohio. He purchased land in Salem Township, Washington County, OH. Also in Washington County in 1802, Christopher "kitt" (Putnam) Malbone was a slave turned free and supported himself "by tending a floating mill and clearing land on farms." As a resident, he was able to cast a vote for delegates that would attend the Ohio Statehood Convention. In doing so, he became the first African American to vote in Ohio. The Delegates then voted to remove the right for African Americans to vote.
The abolitionist movement beginning in 1815 was boosted by the Anti-Slavery Society, which began as various church and missionary campaigns and even newspapers. In Cincinnati, Charles Osborne developed the first of its kind "Philanthropist" which encouraged the end of Slave Labor as well as abstain from drinking. Benjamin Lundy was another abolitionist who came on as a writer and assistant to Charles. He was also a Lecturer who traveled as far as Haiti. This was an encouragement for those in the Underground Railroad. In 1816, John Stewart became the first African American Missionary by trekking up to Sandusky Ohio and converting members of the Wyandot Indians, including Jonathan Pointer, a kidnapped slave that became Stewart's interpreter. This encouraged the missionaries. Even the Presbyterian church declared that no slaveholder would be able to take communion.
Ohio Black Population Grows
From 1800-1850, there were known to be 20-30 Black communities developed in Ohio known as "Black Towns". In 1820, the First African American school opened. The total Ohio African American population was 4,723 of the 581,000 total Ohio population. The US African American population was 1,771,656. This is the period of Reform and building of Railroads throughout Ohio. The migration also sparked white mob riots.
In 1829, the Cincinnati race riots lasted 3-days destroying homes and driving 1,000 African-Americans to Canada while also receiving an invitation by the Governor of Upper Canada. In 1830, January 1st, also known as "Black Friday", approximately 80 African Americans were driven from Portsmouth, OH. This mobbing went on for years, eventually driving hundreds of African Americans out of Ohio. By 1843, no Native Americans had claims to any land in Ohio. However, the census recorded a growth from the last ten years of African Americans at 9,574 in total population in 1830. The total African American population in the US was 2,328,642 of which 319,599 are freed.
Education and the Underground Railroad
By 1840, 17,345 African Americans lived in Ohio. In 1850, there were 25,279 and 3,638,808 African Americans in the US. The Underground Railroad had a major impact in the growth of migration from the south into Ohio with nearly 3,000 miles or routes in the state. Even with the Ohio Fugitive Slave laws, it is estimated that 40,000 slaves escaped through the Ohio Underground Railroad. A woman named Lucy Sessions, in 1850, becomes the first African American woman to graduate from Oberlin College and to be awarded a college degree from an American College. In 1851, Soujourner Truth gave her famous "Ain't I a Woman?" speech at the Women's Convention in Akron. By 1860, there were 36,673 African Americans in Ohio. Because of the Black Laws, African Americans were not considered citizens of the state. Therefore, they funded their own schools.
In 1830, the School Fund Society was founding and establishing schools throughout Ohio. The Colored Education Society opened schools also. The country's oldest, private black university, Wilberforce University, was founded in 1856. John Malvin, the son of a slave man and free African American woman, and therefore also free, lived as a carpenter and transporting goods as the Captain of the ship Auburn. He worked with The Colored America and in 1839 became the President of the School Fund Society. In 1843 and 1844, he served as a Delegate at Colored Conventions. He worked with the paper Palladium of Liberty and in 1848, he helped file the Declaration of Sentiments, in repeal of the Black Laws. From 1850-1860 he was a Conductor of the Underground Railroad, President of the Ohio Anti-Slavery Society and lecturer. He became an advocate and organizer in developing a committee sent to the Dominion of Canada which in turn the citizens bought 3-acres of land in Ohio, which became the colony of Wilberforce. In 1863, the African American Bishop Daniel Payne, bought Wilberforce University for the African Episcopal Church, which made Wilberforce the first college in the US controlled by African Americans. In 1887, Central State University is founded in Wilberforce.
Charles Langston, grandfather to the poet Langston Hughes, moved to Ohio from Virginia. Living in Chillicothe, OH, he also campaigned for the repeal of the Black Laws, which wouldn't be repealed until 1849 and African American education restrictive laws weren't repealed until 1887. In 1850, Langston aided the formation of the Ohio Colored League and the next year advocated for the removal of the word "white" from the language in the Ohio Constitution. In 1852, he organized St. Marks Masonic Lodge where he became the deputy Grand Master by the next year. In 1858, he was arrested for breaking the Fugitive Slave Law. In 1872, he moved to Kansas with his family. Charles Langston's brother, John Mercer Langston, becomes the first African American in the US to be elected to public office as the Clerk of Brownhelm Township in 1854. He is also admitted to the Ohio Bar and began practicing law.
By 1852, Cincinnati was home to 200 African Americans that owned property in total value of $500,000, of approximately 3,500 African Americans in the city. African Americans were still able to find the benefit of Ohio's anti-slavery policy. Robert Gordon, a former slave, starts a coal business in 1847. Peter Clark, free man, edits the Herald of Freedom Newspaper in 1853. Robert S Duncanson, a self taught painter was internationally known for his murals and landscapes, having had the opportunity to travel throughout Europe. He donated many works for the benefit of Abolitionist causes. At the start of the civil war, he painted a depiction of Blacks attending to the needs of White soldiers called Land of the Lotus Eaters. From this work, he gained the praise from the duchess of Sutherland in 1861 and the painting was eventually owned by the King of Sweden.
Civil War
The Civil War began in 1861 with the Union Army not allowing African Americans to volunteer. However, the Confiscation Act was enacted allowing for the Union Army to free slaves that are under their control. By 1862, African American men in Cincinnati were impressed to build fortifications to defend the city from Confederate attack. They were designated the Black Brigade. In 1863, the first regiment of African American recruits from Ohio reported for Civil War service in Delaware, Ohio. They were the 27th Ohio Volunteer Infantry; renamed the 5th United States Colored Troops and 178th US Colored Troops in 1864. 5,092 African American Ohio men fought in the civil war. The war ended in 1865.
Reconstruction
By 1870, the African American population in Ohio was at 63,213 growing to 80,000 by 1880. Populations of at least 2,000 or more residents were found in each of the counties and cities of Hamilton, Ross, Greene, Gallia, Franklin, Brown, and Clark. During this Reconstruction Period, African Americans continued to bring on great accomplishments. In 1883, George Washington Williams writes and publishes the History of the Negro in America from 1619 to 1880. Granville T Woods received a patent for "telegraphony", an apparatus combining the telegraph and telephone which makes the morse code useless and allows for anyone to send messages in 1885. Then in 1887 Woods creates a telegraph system to be used between trains and rail stations and eventually forms Woods Electrical Company and then goes on to continue creating inventions like bulky mechanical resistors used to dim lights in theaters. John Parker, also an inventor and a former slave, invents a screw for tobacco presses and later establishes the Ripley Foundry and Machine Company in 1887.
By 1890, Ohio has grown to 87,000 African Americans in residence. Edwin Berry erects a 22 room hotel called the Hotel Berry in Athens, OH as the state boasts of the ease of travel throughout having access in water, path-roads, railroads and interurban transportation systems. The largest employment was the railroads. The 1880s allowed for the discovery of oil in Ohio which opened up many oil companies. The labor force grew as more jobs became available in throughout the rural cities. Employment was benefitting from Industrial, Manufacturing, Coal Mining, and major natural resource distribution. 1900 gave way to new and booming industries which burst Ohio's growth to 97,000 African Americans, of the total population in Ohio being 4,158,000. In the US, there were 8,833,994 African Americans.
1900 – 1950
The 1900s were known as the Progressive Era with Ohio changing from an agricultural to an industrial state and merging apart into a class system of the poor and the wealthy. By this time, seven Ohio citizens had been Presidents and from 1873-1883, they largely won due to the Black vote of 22,000 African Americans. The first baseball teams formed and toured different states. Moses Fleetwood Walker attended Oberlin College in 1877 where he began his career in baseball. Simpson Younger was the first African American to play on the team, but Fleetwood went on to play at the University of Michigan where he joined minor leagues in 1882. A year later, he was in Toledo, OH playing his first season in professional league for the Northwestern League. The Toledo Club was allowed to be a member of the American Association in 1884 and the commencement of the season made him the first African American to play in the Major Leagues. He went on to invent and gain a patent for an explosive artillery shell and a patent for a device that allows for film operators to change reels easily during screening. In 1891, Walker experienced legal issues and time in jail until 1898. After his release, he worked for a paper and in 1904, he purchased an Opera House, having live entertainment and showing movies. Paul Lawrence Dunbar was well known for his 12 books of poetry, short stories, a play and five novels. William DeHart Hubbard won the Gold Medal in the 1924 Olympics in France.
The Great Migration and World Wars
By 1920, 186,187 African Americans resided in Ohio. This period is also called the Great Migration through to 1940, where the African American population grew to 339,461 in Ohio. Moving from the South to the North was encouraging for the jobs and opportunities provided by the North. "In a study of housing in Akron completed in 1939, it was determined that 60% of the city's houses were constructed between 1914 to 1924 when the Great Migration was at its peak." World War I helped facilitate the time of Depression with many people losing their jobs due to the 1929 stock market crash. Industries started to close and business was no longer as profitable. By 1930, there were 309,304 African Americans in Ohio (4.6% of the total OH population) and in the US, 11,891,143 African Americans in the US (9.7% total population). The Ohio legislature required public boards of education to provide medicines and clothing to the needy, allowing them to borrow money and issue bonds to fund the operation. New Programs such as Social Security Act of 1935 issued unemployment and aid. In 1941, World War II caused 839,000 Ohio men and women to go to war, of which, 50,340 were African American.
Ohio's economy began to rebound with the contracts awarded to supply services and goods to the military, providing employment to many African Americans. Sports continued to be an outlet. Jesse Owens wins 4-gold medals in the Olympic games in Germany. Frederick Douglass "Fritz" Pollard was the first African American to play in the Rose Bowl and second named as All-American in football. He joined the Akron Pros in 1919, becoming a National Football League in 1922. Pollard went on to play for several teams and returned to the Akron Indians in 1926, retiring in 1937. Between 1934-1946, there was a ban from allowing African American football players in the league. In 1944, William Willis is the first African American to start in the College All-Star Football game. The first football game between a predominately African American school, Wilberforce University against predominately White school, Bergen College of New Jersey; Wilberforce wins. In the same year of 1947, Larry Doby is the first African American to play in the American League with the Cleveland Indians. The next year, Leroy Satchel Page is the first African American to pitch in a Major League World Series game for the Cleveland Indians. Marion Motley is the first African American in the Cleveland Browns to lead in professional football rushing yards.
1950s & 60s
By 1950, Ohio was bustling throughout the state. There were 513,072 African Americans in Ohio and 15,042,286 in the US. The US has changed dramatically by the end of World War II in 1945. Icabod Flewellen, in 1953, founded the first independent African American Museum in Cleveland. Dorothy Dandridge, a Cleveland native, won an Academy Award for her role as Carmen Jones in 1954. The 50's gave way to suburban living and a desire for equal rights and living. As racial tensions grew, so did Civil Rights campaigns. There were low levels of hiring and employment amongst African Americans. Segregation became more prominent with separate entries and usages for different races. Homes were also harder for African Americans to own. Finally, the "Ohio General Assembly enacted the Ohio Civil Rights Act of 1959. This legislation replaced the Ohio Public Accommodations Law of 1884".
There were consistent civil rights battles and struggle in the 60's as far as race relations. Ohio started the decade with 786,097 African American residents in the state out of 18,871,831 in the US. More African Americans were heavily involved in education, earning degrees, becoming lawyers, doctors and politicians. Carl B Stokes was elected as Mayor of Cleveland in 1967, the first African American to be elected mayor of a major city in the country. The next year, his brother Louis Stokes, a prominent civil rights attorney, is the first African American elected to Congress from Ohio.
1970s
By the 1970's, there were 970,000 African Americans in Ohio, 11.1% of the population. Cleveland, OH was the 9th largest African American population in the city with 287,841 residents. Cincinnati was the 18th largest with 125,070 African American residents. Columbus had 99, 627 while Dayton counted at 74,284 African American residents. Toledo had 52,915 African Americans. In other cities, Akron – 48,205, Youngstown – 35,285, East Cleveland – 23,196, Canton – 13,766 and Springfield with 12,723 African American residents.
1980s – Present
In 1980, there were 1,068,997 African Americans in Ohio, just 10.5% of the total Ohio population. After 200 years of Ohio history, by 1990, 1,290,668 African Americans were living in Ohio. In 2004, there were 36,597,015 African Americans in the United States 12.8% of the total US population. 11.7% were in Ohio. By 2006, there were 1,290,668 African Americans in Ohio.
2006 recorded 543,064 African Americans in the civilian labor force. The median income for a family by this time among African Americans was $50,037. Accomplishments of Ohioans continued with Edwin Moses, of Dayton, who won 2-Gold Medals in track and field in the Olympics and maintains a legacy of winning 122 straight victories over his opponents. Toni Morrison in 1993 was the first to win the Nobel Prize for Literature. Numerous African Americans became mayors in Cleveland, Columbus, Cincinnati, Toledo, Dayton and Youngstown – Michael Coleman, Rhine McLin, Jack Ford, Mark Mallory, Jay Williams, and Donald Culliver.
The Ohio African American population grew to 1,541,771 in 2010, being just 13.4% of the total Ohio population which was a growth of 12.3% from 2000. In 2010, Columbus ranks as number 15 with having the Largest Number of Black or African Americans with 787,033.
Much of the contribution of the study of African American history is contributed to the Richard Shannon book, "Profiles in Ohio History A Legacy of African American Achievement". Areas noting quotations were direct from the book, an excellent reference for researching the many achievements of the early Black Ohioans. More information was found from various sites as noted below. Ohio's population and achievements continues to grow, for more information on the demographics of African Americans in Ohio and other states, continue on at City & State Black Population.
To revisit the history of Ohio, then you may want to visit these sites and landmarks:
Ceveland African American Museum
http://myafricanamericanmuseum.org/
Cleveland – Karamu House
http://www.karamuhouse.org/
Wilberforce – The National Afro-American Museum & Cultural Center (NAAMCC)
http://www.ohiohistory.org/museums-and-historic-sites/museum–historic-sites-by-name/national-afro-american-museum–cultural-center
Columbus – The headquarters of the Ohio Historical Society
http://www.ohiohistory.org/programs–events/ohio-history-center/echoes-in-time-theater
Columbus – The King Arts Complex
http://kingartscomplex.com/
Dayton – Paul Laurence Dunbar House
http://www.ohiohistory.org/museums-and-historic-sites/museum–historic-sites-by-name/paul-laurence-dunbar-house
Cincinnati – Harriet Beecher Stowe House
http://www.ohiohistory.org/museums-and-historic-sites/museum–historic-sites-by-name/harriet-beecher-stowe-house
Cincinnati – Home of the National Underground Railroad Freedom Center
http://www.freedomcenter.org/
Ohio History Central
http://www.ohiohistorycentral.org/topic.php?rec=8
Charles Osborn – http://www.ohiohistorycentral.org/entry.php?rec=292
http://www.ohiohistorycentral.org/entry.php?rec=570&nm=African-Americans
http://www.ohiohistorycentral.org/entry.php?rec=2382
http://www.ohiohistorycentral.org/entry.php?rec=2377
http://www.ohiohistorycentral.org/entry.php?rec=1585
2010 US Population – Using Black or African American alone or in combination
http://www.census.gov/prod/cen2010/briefs/c2010br-06.pdf
http://www.census.gov/newsroom/releases/archives/facts_for_features_special_editions/cb12-ff01.html
The Black Alone or in Combination Population in the United States: 2007
http://www.census.gov/population/race/data/ppl-bc07.html
http://www.fedstats.gov/qf/states/39000.html
2004 US Population
http://www.census.gov/prod/2007pubs/acs-04.pdf
Ohio and separate profiles for Columbus, Cleveland, Dayton, and Cincinnati
1970 Census – http://www2.census.gov/prod2/decennial/documents/31679801n1-40ch01.pdf
http://www2.census.gov/prod2/decennial/documents/1970a_oh2-01.pdf
Biographies and specific references:
http://ijpc-cincinnati.org/node/204
http://www.greatblackheroes.com/government/benjamin-o-davis-jr/
http://www.edwinmoses.com/icon_bio.html
http://www.dunbarsite.org/
http://blackhistorynow.com/robert-s-duncanson/
African American Gateway
http://www.genealogycenter.info/africanamerican/results_afram.php?subject=OH
http://www.angelfire.com/oh/chillicothe/Revolutionary.html
http://www.angelfire.com/oh/chillicothe/
http://www.angelfire.com/oh/chillicothe/people.html
African Americans in Columbus
http://www.columbusmemory.org/sites/columbusmemory.org/files/African_Americans_in_Columbus.pdf
African American History is Ohio History
Ohiohistory
Posted Feb 24 2011: http://ohiohistory.wordpress.com/2011/02/24/african-american-history-is-ohio-history/
Cleveland.com – Ten key places in black history: http://www.cleveland.com/travel/index.ssf/2008/02/ten_key_places_in_black_histor.html