New York City
| | | |
| --- | --- | --- |
| Metropolitan Area Data | Black | Total Metro |
| Population | 3,490,216 | 20,320,876 |
| Median household income | $49,677 | $75,368 |
| Family poverty rate | 15.5% | 9.7% |
| Bachelor's degree or higher | 25.6% | 39.6% |
| Married-couple family households | 26.2% | 46.4% |
| Homeowner rate | 31.5% | 51.8% |
SOURCE: 2017 American Community Survey 1-Year Estimates
The New York City Metropolitan area represents the largest city and metro in America with more than 18 million residents. African Americans have a rich history in this region even before the civil war. The New York Metro Black population is the largest of any city in the United States at close to 3.5 million. This is almost 9% of the entire Black population of the United States. New York City Proper has more than 2.4 million African Americans.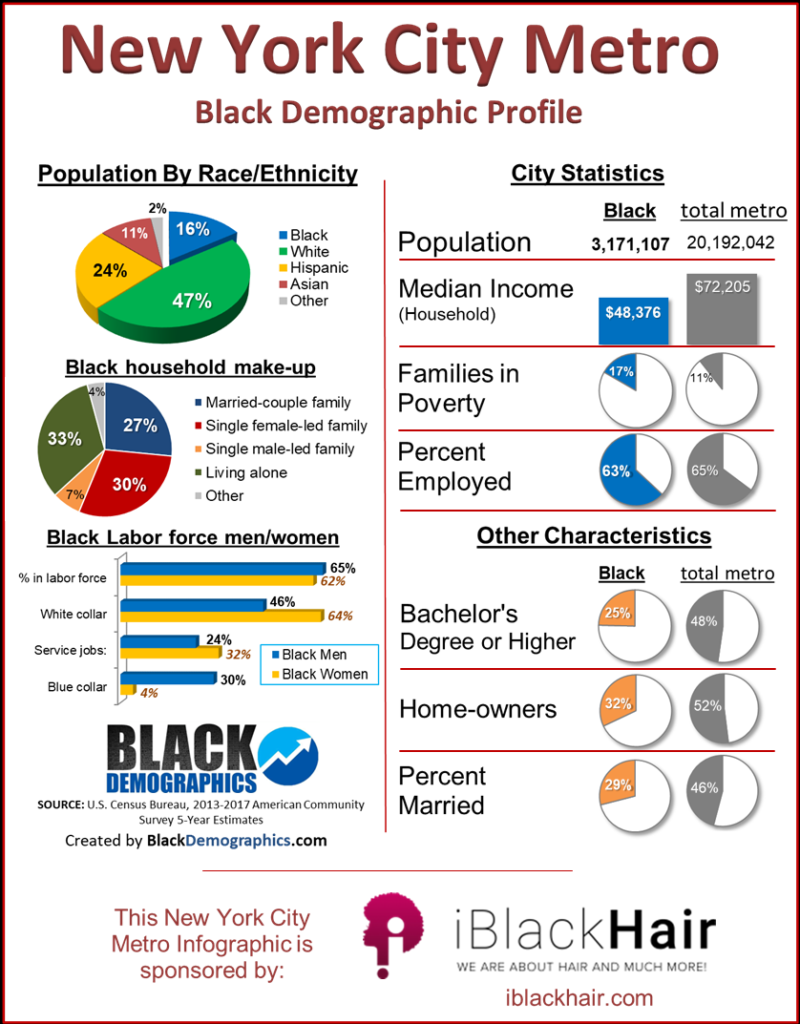 | | |
| --- | --- |
| NYC Boroughs | Black Population |
| Brooklyn | 908,844 |
| Bronx | 642,187 |
| Queens | 484,022 |
| Manhattan | 297,884 |
| Staten Island | 56,613 |
| Long Island | Black Population |
| Nassau County | 176,677 |
| Suffolk County | 128,235 |
| Upstate Metro | Black Population |
| Westchester County | 161,285 |
| Orange County | 48,007 |
| Rockland County | 43,768 |
| Putnam County | 3,557 |
| North New Jersey | Black Population |
| Essex County | 339,330 |
| Union County | 133,073 |
| Hudson County | 102,560 |
| Passaic County | 77,498 |
| Bergen County | 67,768 |
| Morris County, | 18,567 |
The largest most concentrated Black population in America consists of more than 900,000 African Americans living in a 4 mile square area in the New York Borough of Brooklyn. Harlem, located at the north end of Manhattan is still the most dense (people per square mile) Black community in the nation. New York enjoys a more diverse Black population than most cities. 935,512 of the areas residents where born outside of the US and 413,669 of them are still not American citizens. The majority (84.4%) of Foreign-born Black residents are from the Caribbean. 13.0% are immigrants from Africa and 1.6% are from Europe.
HARLEM
In 1905 Philip Payton and his company, The Afro-American Realty Company, was almost single-handedly responsible for migration of blacks from their previous neighborhoods. He did this by buying, leasing, and selling empty and white owned properties to Blacks without apologies for and against the white tenets objections. Less than two decades later African Americans from the south fueled the Great Migration, taking trains from southern U.S. states, especially Virginia, North and South Carolina, and Georgia, As blacks moved in, white residents left; between 1920 and 1930, 118,792 white people left the neighborhood and 87,417 blacks arrived.
There were also many immigrants from the British West Indies. In the 1920s, Harlem was the center of a blossoming of black culture and became known as the Harlem Renaissance. The Harlem Renaissance was a time of artistic, educational, and overall cultural production. After The Great Depression and the loss of industrialization after WWII brought more poverty and crime to New York and especially Harlem. By 1960 more than half of Harlem's housing was considered to be less than sound. Complaints included rats, falling plaster, lack of heat, and unsanitary plumbing. Harlem's population began to decline quickly. It's population finally bottomed out in 1990, at 101,026. Decreasing by 57% from its peak of 237,468 in 1950.
During the mid 1990s Harlem experienced an influx of middle class Black, white, Asian, and Hispanics. This gentrification was driven by rising prices on lower areas of Manhattan as well as an overall reduction of crime, and changes in city policy.
http://encyclopedia.jrank.org/articles/pages/4414/The-Afro-American-Realty-Company.html
http://en.wikipedia.org/wiki/Demographics_of_New_York_City
http://en.wikipedia.org/wiki/Harlem
BROOKLYN
According to the 2010 U.S Census Brooklyn has a Black population of 896,165 which is a drop from 939,316 counted during the 2000 Census. This drop signifies the migration of African Americans to outlying areas of New York City and those who are leaving the region all together. Today the communities of north and east Brooklyn are largely Black. The Flatbush area is also home to a large West Indian/Caribbean population. Although Harlem has the recognition, Brooklyn is a cultural giant in Black America. While gentrification has begun in Bedford-Styvestant and Crown Heights the Black population has been increasing in the easternmost part of the borough in the neighborhood of East New York.
The Black population in Brooklyn goes back to 1840s in the village of Weeksville named after a Black man named James Weeks. New York continued to grow and Weeksville eventually became a part of what is now called the Crown Heights section of Brooklyn. In the 1930s the newly constructed A-Train ran from Harlem to the newly formed community of Bedford-Stuyvesant. Many African Americans relocated from Harlem to this section of Brooklyn eventually spreading to the adjacent neighborhoods making most of northern and eastern Brooklyn majority Black. During the 70s an exodus of middle-class African Americans to the adjacent borough of Queens became apparent leaving a larger concentration of poorer Blacks in Brooklyn.
SOURCE: http://en.wikipedia.org/wiki/Bedford-Stuyvesant
http://en.wikipedia.org/wiki/Brooklyn
QUEENS
The African American migration to Queens began about the time of the first World's Fair and the completion of the Triborough Bridge in the 1940s. Initial migration came from Harlem leading to parts of northern Queens such as East Elmhurst and Corona. But the major migration into southeast Queens began after World War II. Builders in Long Island were responding to the cities overcrowding and to White soldiers coming back from the war by building massive suburban developments on Long Island such as Levittown. This helped to escalate White flight which emptied out many homes in southeast Queens. Middle class Black families from Brooklyn and Harlem took advantage of this and purchased homes in large numbers.
Housing prices began to fall in the 70s at the same time as numbers of immigrants from the Caribbean began to move in. West Indians, those mostly from Jamaica, Trinidad, Barbados, Grenada, and other Caribbean island-nations were able to move to the US because of the 1965 Hart-Cellar Immigration Act. From 1965 and until about 1990 the number of West Indians (or Caribbean's) migrating to America skyrocketed.
Today parts of South Jamaica, South Ozone Park and Far Rockaway have low-income housing and quality of life problems. However, much of southeast Queens such as Cambria Heights, Hollis, Laurelton, and Saint Albans, is an area of middle-class neat detached houses with manicured lawns. In the new millennium African Americans in Queens have a higher median income than Whites. The hard working and very educated West Indian populations has much to do with this when added to the population of post- Civil War Black Americans.
SOURCE: http://www.queenstribune.com/anniversary2002/africanamericans.htm
---
---