---
New Orleans, LA
The New Orleans Metropolitan Area has the 16th largest Black population in the United States.
| | | |
| --- | --- | --- |
| Metropolitan Area Data | Black | Total Metro |
| Population | 452,392 | 1,275,762 |
| Median household income | 30,781 | 50,528 |
| Family poverty rate | 24.4% | 13.8% |
| Bachelor's degree or higher | 16.7% | 29.5% |
| Married-couple family households | 25.5% | 40.1% |
| Homeowner rate | 47.9% | 62.2% |
SOURCE: 2017 American Community Survey 1-Year Estimates
---
The Black history of New Orleans is unique compared to that of African Americans in other US cities. New Orleans was once Spanish, and then a French territory before the United States acquired it through the Louisiana Purchase. Most African slaves there came from French territories of Africa and mostly from Haiti, a French controlled part of the Caribbean. Under French rule, many Africans, French, Spanish, and Native people mixed forming what became known as the Creoles of Louisiana. Creoles enjoyed many privileges only bestowed to whites until the late 1800 when they were reclassified as Black and forced to live among, mix with, and follow the same rules as Blacks. The Black Population on the other hand was able to retain some African traditions and culture under French rule.

Combined with the culture of the Creoles, the New Orleans Black population has always been unique to America. In August 2005, Hurricane Katrina hit New Orleans damaging the Levees which kept the city from flooding. Because the city sits below sea level, 80% of the city flooded and it took weeks to drain out the water. The city still has yet to recover. Much of the largely poor Black population has been unable to return and is now spread across the country. The largest numbers of Black evacuees have started new lives in cities such as Baton Rouge, Houston, Dallas, and Atlanta.
---
Download the Complete African American Population Report for:

New Orleans, LA Metro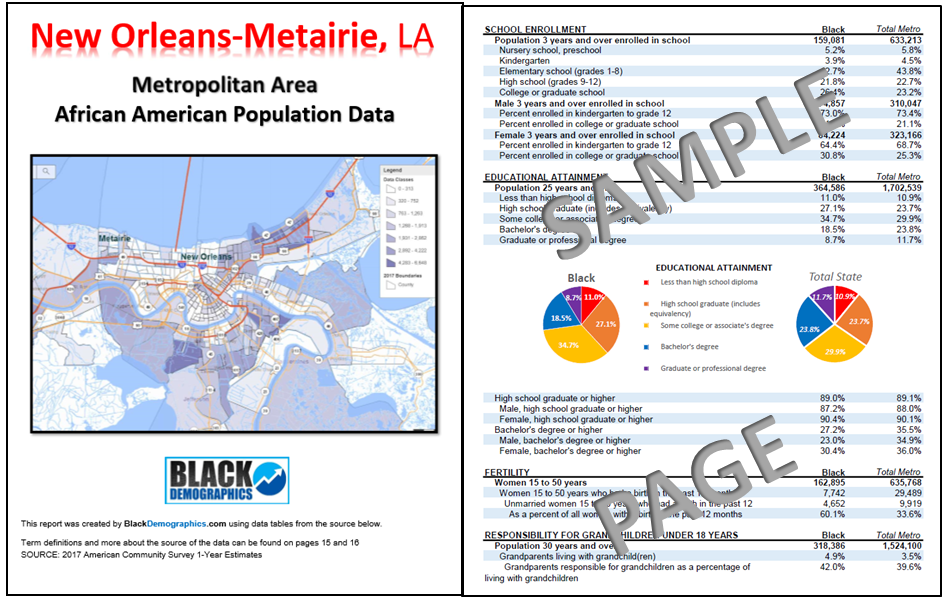 The report consists of data tables compiled from the 2017 Census Bureau American Community Survey 1-Year Estimates and compares the metropolitan area Black population to the total metropolitan area population all in one 16-page report. (purchase below)
This report includes 289 data comparisons regarding 33 topics 26 charts and graphs including:
Total number reported
1 data comparison
Sex and age
19 data comparisons
Relationship
6 data comparisons
Households by type
18 data comparisons
Marital status
18 data comparisons
Responsibility for grandchildren
3 data comparisons
School enrollment status
12 data comparisons
Educational attainment
12 data comparisons
Class of workers
5 data comparisons
Commuting to work
8 data comparisons
Employment status
14 data comparisons
Occupation
18 data comparisons
Industry
14 data comparisons
Poverty rates for families and people
19 data comparisons
Income
30 data comparisons
Housing tenure
5 data comparisons
Monthly owner costs as a percentage of household income
3 data comparisons
Owner characteristics
4 data comparisons
Gross rent as a percentage of household income
3 data comparisons
Gross rent
2 data comparisons
Units in structure
5 data comparisons
Year structure built
7 data comparisons
House heating fuel
5 data comparisons
Selected characteristics
3 data comparisons
Residence 1 year ago
8 data comparisons
Place of birth, citizenship status and year of entry
16 data comparisons
World region of birth of foreign born
7 data comparisons
Language spoken at home and ability to speak English
4 data comparisons
Fertility
4 data comparisons
Veteran status
2 data comparisons
Disability status
8 data comparisons
Health insurance coverage
4 data comparisons
Vehicles available
3 data comparisons
New Orleans-Metairie, LA Population Report (289 data comparisons regarding 33 topics and 26 charts and graphs)
-in PDF and Excel format
Download Now $3.99 (click Buy Now)
For any questions or issues related to viewing and/or downloading this report contact:
[email protected]
These Transactions
For any questions or issues related to viewing and/or downloading this report contact:
[email protected]
---