Atlanta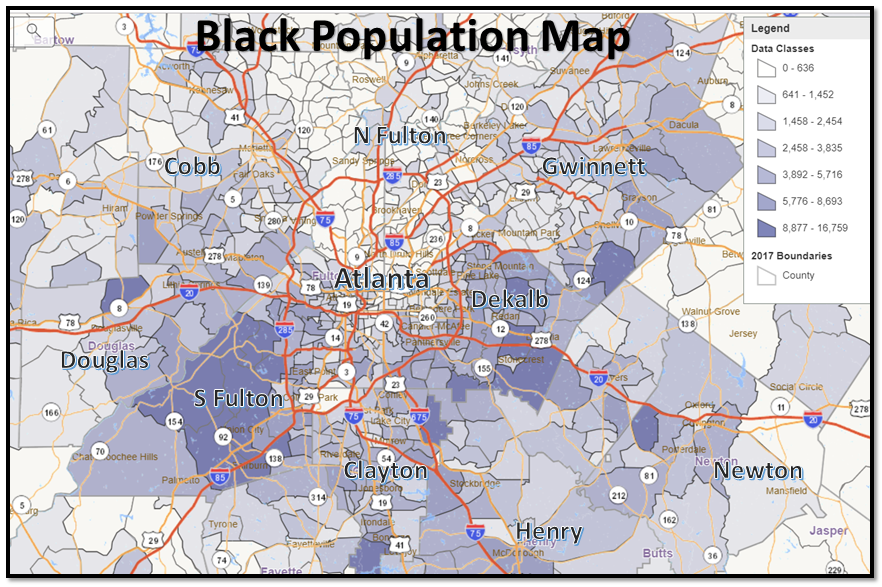 | | | |
| --- | --- | --- |
| Metropolitan Area Data | Black | Total Metro |
| Population | 2,004,889 | 5,882,450 |
| Median household income | $51,397 | $65,381 |
| Family poverty rate | 13.5% | 8.8% |
| Bachelor's degree or higher | 29.4% | 37.9% |
| Married-couple family households | 31.8% | 48.5% |
| Homeowner rate | 47.0% | 63.0% |
SOURCE: 2017 American Community Survey 1-Year Estimates
---
History
Atlanta's demographics were similar to that of Northern Georgia and did not have a major Black presence until after the civil war. Although African Americans were concentrated in Georgias' "Black Belt" in the central and southern parts of the state, Blacks made up more than half of the Black population by the late 1800s.
In the 1960s Atlanta minister Dr. Martin Luther King, Jr., emerged as leader of the civil rights movement, bringing increased prominence to the city.

---
"The Black Mecca"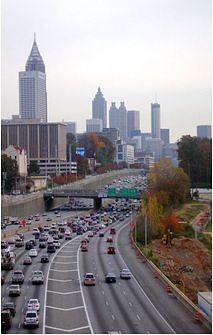 The Atlanta University Center (AUC) has six historically Black colleges and produces more Black post graduates than any College system besides Howard University.
The nation's largest Black construction company, H.J. Russel Company, projects include several downtown skyscrapers, additions of the Georgia World Congress Center and the airport.  Some of the America's largest Black auto dealerships are Atlanta as well as three Black owned banks.
Major Black events include Sweet Auburn Festival, Atlanta Football Classic and the National Black Arts Festival.  The Black entertainment industry is in blossom here with the likes of Usher, T.I., Babyface, Jermaine Dupri, Gladys Knight, Too Short, Peabo Bryson and Tyler Perry. With more than 170,000 thousand Black owned businesses, Atlanta is busting at the seams with Black Entrepreneurs. Almost 30% of black adults in Atlanta have degrees which accounts for the large numbers of African Americans in major and mid-sized corporations. One of the first things you will notice in any of the cities business districts is that Black men and women are not scarce from any industry here. Is Atlanta's the "Black Mecca"? If not than who is?
---
"Sweet Auburn" Avenue
"Sweet Auburn", is also home to one of the nation's oldest Black business districts. This district is comparable to that of Harlem in history and at the present moment. The district boasts the second largest Black life insurance company, Americas oldest Black radio station, one of it's largest Black banks, and one of the oldest Black newspapers.
According to SoulAmerica.com Sweet Auburn, has the largest concentration of national Black historic attractions in one district which includes:
-Dr Martin Luther King, Jr. birth home
-King Center for Non-Violent Social Change
-Ebenezer Baptist Church, and a national visitor center. 
-Southern Christian Leadership Conference headquarters,
-APEX Museum Collection of Life and Heritage, Inc.
-Auburn Avenue African American Research Library,
-100 Black Men of America National Headquarters
---