African Americans & Crime
Stopped, Searched, & Arrested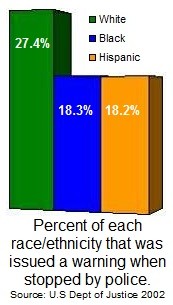 Every few years an incident occurs in the Black community where a Black man is handled with excessive force or is shot to death by police. The confrontation may be taped or due to the surrounding circumstances the African American community and sometimes the media will rally behind the alleged victim and demand justice.
When this occurs the age-old question resurfaces about whether or not Black men are unfairly targeted by law enforcement.
In 2005 the U.S. Department of Justice 'Bureau of Justice Statistics' released a report titled 'Contacts between Police and the Public: Findings from the 2002 National Survey'. This was a sampling of 80,000 Americans that collected information regarding traffic stops and the circumstances surrounding contact with police. The report found that:
9% of White drivers were stopped
9% of Black drivers were stopped
9% of Hispanic drivers were stopped
However, African Americans, and Hispanics were much less likely to be issued a simple traffic warning from police during these traffic stops and were much more likely to be searched (person or vehicle), handcuffed, and arrested.  
Percent Searched, Handcuffed, and Arrested
Even though the same percentage of Whites, Blacks, and Hispanics were stopped by police (9%), African Americans were:
three times more likely to to be searched (person or vehicle) than Whites 

more than three times more likely to be handcuffed

almost three times more likely to be arrested.

Percent Searched but Not Arrested
Another report released from the U.S. Department of Justice noted that during the same year 9% of the Black men who were stopped and not arrested had been searched compared to 3% of White men. Hispanics where the only group searched without arrest more than African Americans. 
INCARCERATION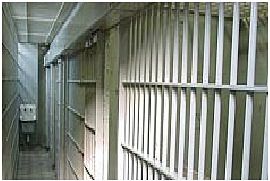 Black males ages 30 to 34 have the highest incarceration rate of any race/ethnicity. Of the total 2.1 million male inmates in Jail or Prison, Black males represent the largest percentage 35.4%, followed by white males 32.9%, and Hispanic males 17.9%. Over one third (33.8%) of the total males in Jail or Prison were ages 20 to 29. The largest percentage of black (35.5%) and Hispanic (39.9%) males held in custody were ages 20 to 29. In contrast to white males whose largest age group was ages 35 to 44 accounting for the (30.1%) of the white male incarcerated population. According to the US Department of Justice, when comparing the incarceration rates to the to the American residential population, black males are 6 times and Hispanic males are a little more than 2 times more likely to be held in custody than white males in 2007.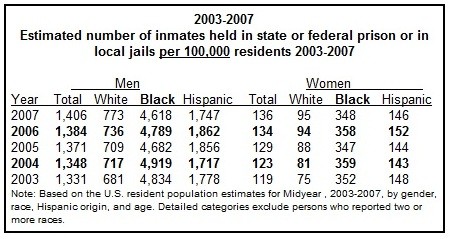 Black Men and Women represented a smaller percentage of the increase in the population incarcerated in Jail or Prison. over the last last eight years. From midyear 2000 through midyear 2007, Black men in prison or jail increased by 23,100 which was 6.3% of the overall increase to the total population in custody. This is compared to the Hispanic men were responsible for the the largest increase to the population in jail or prison with 120,000 inmates 32.7%. White men accounted for 25.0% of the increase and white women for 9.0% during this same time period. While the incarcerated population of Black women actually declined by 1,900 during this period.
Although Black women were incarcerated (prison or jail) at higher rates than Hispanic or white women across almost all age categories, their rate of incarceration decreased 8.4% since midyear 2000. This while the rate for White women increased 51% over the same amount of time.